---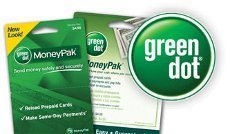 When a scammer hooks a victim, they need a way to get money from the unfortunate person without it being traceable or retrievable. For years, Western Union filled that need.
Victims were instructed to wire the money to the scammer and, once they did, the money was gone. In recent years, however, Western Union and a number of law enforcement agencies have taken steps to educate consumers about this danger. As a result, some scammers are looking for new ways to move money.
In Fairfax County, Va., recently, a 70-year old woman fell victim to a sweepstakes scam in which the scammer used pre-paid debit card. Here's how it worked.
The pitch
According to Fairfax County Police, the woman received a telephone call, congratulating her on winning the sweepstakes and telling her she won $3.5 million and a brand new Mercedes Benz. This particular scam usually includes a Mercedes in the phantom winnings - apparently it becomes more real for the victim if it's more than just a large amount of money.
Up until now, this particular incident has been exactly like countless others. But instead of instructing his victim to send money in the form of a Moneygram - for "taxes" of a "processing fee" - the scammer told the woman to purchase $13,000 worth of Green Dot payment cards and give him the account numbers. He could then obtain the money, even though he did not have the cards themselves.
For good measure, the scammer requested the woman's Social Security number, date of birth and other sensitive information, and unfortunately, she complied. By the time a relative intervened, it was too late - the money was gone.
Don't fall for it
It should go without saying that you do not send money, or give information to a stranger, just because they say you have won a prize. You do not have to pay a fee to receive a prize and you cannot win a contest that you did not enter.
And just because you aren't asked to wire money - but instead are asked to transfer money using a pre-paid card - doesn't mean it isn't a scam. It is.
---