---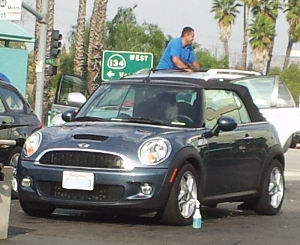 Americans seemingly can't get enough of the Mini Cooper. The sporty little cars are also selling well throughout Asia. Seems like U.S. and Asian drivers like the European styling, the European handling and the European durability that's built into the sturdy sportsters built by BMW.
There's only one area where Minis aren't selling well: Europe.
BMW blames it on the sovereign debt crisis. But whatever the reason, BMW will be cutting back its dealerships and sales efforts in Europe while it expands throughout the U.S. and Asia, Automotive News reports.
The trade publication quotes BMW chieftain Key Segler as saying last year's record growth came from increased sales in China, Korea and the United States, while European markets like Spain and Italy were lagging.
Mini sold 285,000 cars last year, a whopping 21.7 percent increase from 2010. And Segler says he expects the sales growth to continue this year in the U.S., Mini's biggest single market. It sold 57,000 cars here last year and plans to add 15 new dealerships this year to the 110 it already has.
More models
Besides adding dealerships, Mini has been steadily adding models. Besides the base and the S models, which come as both hatchbacks and convertibles, it now makes a sort-of station wagon and even has something that passes for an SUV if you don't look too closely.
The most recent addition is a Mini coupe – a two-seater that is basically a pocket rocket for those whose greatest desire is to travel at great speeds, comfort be damned.
Of course, there are those who would say the Mini hatchbacks are hardly worth of the sedan title, the back seats being about as cramped as your average Manhattan apartment. The coupe takes that to new extremes; it has just enough room for two, assuming they're friends.
But never mind that. The little car has lots of fans, mostly younger, and BMW's thinking is that as those fans age they will need a little more room for such things as strollers and the critters that sit in strollers, booster seats and so forth. Thus the newer models, which are what a soap or soup marketer would call brand extensions.
Mini has currently worked itself up to six models but Segler says it hasn't maxed out, not by any means. He sees the brand having 10 models in the semi-near future.
What's not in store, according to Segler, are more plants. He says Mini can produce 400,000 cars a year at its plants in Oxford, England, and Graz, Austria, which should be more than adequate for the next few years.
Why?
Why do so many people like the Mini so much? Good question. For urbanites, the tiny cars are easy to maneuver and park, which is no small consideration. Many owners will tell the they're a blast to drive and they welcome being thrown about in hairpin curves just as much as cars costing four or five times as much.
They're also cute, which has its advantages. Seasoned Mini drivers will tell you that if they miss a turn on a crowded Los Angeles street, they can whip a U just about anywhere and slip back into traffic, often with a smile and a wave from the drivers they've just cut off. Try doing this in a Mercedes and see what happens.
Maybe it's because, while a Porsche or big BMW screams "I'm the 1%," the Mini tweets, "Hey, we're all in this together. Thanks for sharing!"
Or something like that.
---
The author, who used to have one Porsche, now has two Mini Coopers. Twice the fun, he says.
---