---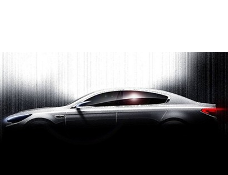 Rear-wheel-drive cars have come to mean big-bucks models from Europe, with an occasional Japanese model thrown in. But now Kia is gearing up to launch its first-ever rear-wheel-drive sedan,Automotive News reports.
The auto industry trade magazine says the top-of-the-line "halo" car -- code-named "KH" -- will launch in Korea in the first half of this year, but there's no word on when it will come to the U.S.
Not surprisingly, the KH will share a platform with the Equus, Hyundai's RWD sedan, which launched in late 2010 with a base price of $58,900. The Equus sold a little more than 3,000 vehicles in the U.S. ini 2011. The slightly less elegant Genesis sold about 33,000, proving that Korean models can compete in the luxury segment.
Kia has been pinning the sales needle in the U.S. of late, selling nearly half a million cars last year, a gain of 36 percent. The KH would presumably be slotted in about the Optima, currently Kia's most expensive and luxurious model.
Kia says the car will "definitely become the leading model of our lineup around the world, showcasing the best of the best of Kia," but reports from Australia say it will be manufactured only in left-hand drive, meaning it won't be available Down Under or in other locales where right-hand drive is the norm.
Kia says the new model unites "innovative design with high-tech features" and can be expected to be packaged will a veritable cornucopia of radars, proximity sensors and touch screens.
It's expected that a selection of gas and turbodiesel engines, as well as the V8 engine from the Hyundai Genesis.
Why RWD?
Why is rear-wheel-drive so important? Well, it's much more expensive to build, which restricts it to upmarket models but more important is the driving experience. Basically, RWD provides weight balance and better handling at very high speeds while eliminating the unpleasant and dangerous torque steer phenomenon that limits the off-the-line performance of FWD cars.
To a certain type of car enthusiast, a front-wheel-drive car is just a transport unit. Listen to Wall Street Journal columnist Dan Neal describe the 2012 Porsche 911 Carrera S after a recent romp: "a ripping, scalping, torque-wrenching, swivel-hipped snake of a car."
Nobody ever said that about a Kia. But check back in a year or two.
---