---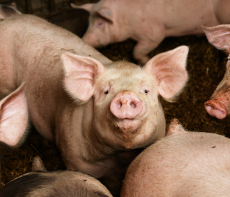 Pigs are being mistreated at two Oklahoma facilities that are major suppliers ot pork to Walmart, the Humane Society of the United States charges. The group has filed legal complaints with the U.S. Securities and Exchange and Federal Trade Commission alleging false and misleading statements about animal care by one of the producers.
The videos, shot in late 2011, were taken at two Goodwell, Okla. pig breeding facilities — one owned by Seaboard Foods and the other by Prestage Farms—and allegedly show animals suffering inside cramped gestation crates and, in some cases, at the hands of abusive employees.
The group says its graphic videos document prolonged suffering of pigs used for breeding who are confined in cages so small the animals can't even turn around, rendering them virtually immobilized for their entire lives.
Seaboard disputed the allegations and Prestage said it has launched an internal investigation. Seaboard is the nation's third-largest pork producer, and a supplier to Walmart. Prestage is the nation's fifth-largest pork producer.
"We've reviewed documented employee actions alleging abuse and listened to the recent discussions questioning U.S. industry practices of sow gestation, swine tail cutting (or docking) and swine castration, and strongly dispute any allegations of abuse," the company said in a prepared statement. "We are committed to the proper and humane treatment of animals, and we believe animals can and should be raised, transported and processed using procedures that are safe and free from cruelty and neglect."
"We have already initiated an internal investigation to assure that company policies and procedures are being followed, said Prestage Farms' Ron Prestage, DVM. "If a determination is made that any employee of the company engaged in activities contrary to the policies they agreed to follow, we will take disciplinary action as appropriate, including termination of employment, as is provided in our animal welfare policy. This has been done before when a violation of our policies has been identified."
"The pork industry's notorious disregard for animal welfare is perhaps greater than in any other sector of the meat industry," said Paul Shapiro, HSUS senior director of farm animal protection. "Permanently cramming pigs into cages so small they can barely move is simply out of step with mainstream American values about the proper treatment of animals."
Seaboard Foods' own animal welfare advisor, Temple Grandin, Ph.D. has stated, "I feel very strongly that we've got to treat animals right, and the gestation stalls have got to go." Grandin has also stated, "Confining an animal for most of its life in a box in which it is not able to turn around does not provide a decent life."
---