---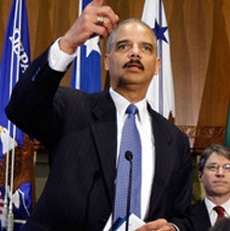 Attorney General Eric Holder
Federal and state officials have finalized a landmark $25 billion agreement with the nation's five largest mortgage servicers over foreclosure abuses and fraud, and unacceptable nationwide mortgage servicing practices.
The deal represents the largest government-industry settlement since a multistate deal with the tobacco industry in 1998. Under the agreement, Bank of America, Citibank, JP Morgan Chase, GMAC and Wells Fargo, have agreed to pay a combined $25 billion.
Are you eligible for assistance? More information is available here.
"I helped to negotiate and strongly support the bipartisan settlement reached with the nation's largest mortgage servicing companies over their widespread and improper foreclosure practices," said Connecticut Attorney General George Jepsen. "There are many reasons why I believe this settlement is good for Connecticut, but the most important reason is this: it provides immediate help to thousands of Connecticut homeowners at a time when they can still use that help to save their homes."
Oklahoma was the only state that did not participate in the settlement.
Jepsen was among a bipartisan group of state attorneys general in Washington D.C. participating in the announcement Thursday with U.S. Attorney General Eric Holder, U.S. Housing and Urban Development (HUD) Secretary Shaun Donovan.
"This agreement – the largest joint federal-state settlement ever obtained – is the result of unprecedented coordination among enforcement agencies throughout the government," said Attorney General Holder. "It holds mortgage servicers accountable for abusive practices and requires them to commit more than $20 billion towards financial relief for consumers.
"As a result, struggling homeowners throughout the country will benefit from reduced principals and refinancing of their loans. The agreement also requires substantial changes in how servicers do business, which will help to ensure the abuses of the past are not repeated," Holder said.
Robo-signing
The joint federal-state agreement requires servicers to implement comprehensive new mortgage loan servicing standards and to commit $25 billion to resolve violations of state and federal law.
These violations include servicers' use of "robo-signed" affidavits in foreclosure proceedings; deceptive practices in the offering of loan modifications; failures to offer non-foreclosure alternatives before foreclosing on borrowers with federally insured mortgages; and filing improper documentation in federal bankruptcy court.
Under the terms of the agreement, the servicers are required to collectively dedicate $20 billion toward various forms of financial relief to borrowers. At least $10 billion will go toward reducing the principal on loans for borrowers who, as of the date of the settlement, are either delinquent or at imminent risk of default and owe more on their mortgages than their homes are worth.
At least $3 billion will go toward refinancing loans for borrowers who are current on their mortgages but who owe more on their mortgage than their homes are worth. Borrowers who meet basic criteria will be eligible for the refinancing, which will reduce interest rates for borrowers who are currently paying much higher rates or whose adjustable rate mortgages are due to soon rise to much higher rates.
Up to $7 billion will go towards other forms of relief, including forbearance of principal for unemployed borrowers, anti-blight programs, short sales and transitional assistance, benefits for service members who are forced to sell their home at a loss as a result of a Permanent Change in Station order, and other programs. Because servicers will receive only partial credit for every dollar spent on some of the required activities, the settlement will provide direct benefits to borrowers in excess of $20 billion.
Three years
Mortgage servicers are required to fulfill these obligations within three years. To encourage servicers to provide relief quickly, there are incentives for relief provided within the first 12 months. Servicers must reach 75 percent of their targets within the first two years. Servicers that miss settlement targets and deadlines will be required to pay substantial additional cash amounts.
In addition to the $20 billion in financial relief for borrowers, the agreement requires the servicers to pay $5 billion in cash to the federal and state governments. $1.5 billion of this payment will be used to establish a Borrower Payment Fund to provide cash payments to borrowers whose homes were sold or taken in foreclosure between Jan. 1, 2008 and Dec. 31, 2011, and who meet other criteria.
This program is separate from the restitution program currently being administered by federal banking regulators to compensate those who suffered direct financial harm as a result of wrongful servicer conduct. Borrowers will not release any claims in exchange for a payment.
The remaining $3.5 billion of the $5 billion payment will go to state and federal governments to be used to repay public funds lost as a result of servicer misconduct and to fund housing counselors, legal aid and other similar public programs determined by the state attorneys general.
Bank of America
The $5 billion includes a $1 billion resolution of a separate investigation into fraudulent and wrongful conduct by Bank of America and various Countrywide entities related to the origination and underwriting of Federal Housing Administration (FHA)-insured mortgage loans, and systematic inflation of appraisal values concerning these loans, from Jan. 1, 2003 through April 30, 2009.
Payment of $500 million of this $1 billion will be deferred to partially fund a loan modification program for Countrywide borrowers throughout the nation who are underwater on their mortgages. This investigation was conducted by the U.S. Attorney's Office for the Eastern District of New York, with the Civil Division's Commercial Litigation Branch of the Department of Justice, HUD and HUD-OIG.
The settlement also resolves an investigation by the Eastern District of New York, the Special Inspector General for the Troubled Asset Relief Program (SIGTARP) and the Federal Housing Finance Agency-Office of the Inspector General (FHFA-OIG) into allegations that Bank of America defrauded the Home Affordable Modification Program.
Loan servicing
The joint federal-state agreement requires the mortgage servicers to implement unprecedented changes in how they service mortgage loans, handle foreclosures, and ensure the accuracy of information provided in federal bankruptcy court.
The agreement requires new servicing standards which will prevent foreclosure abuses of the past, such as robo-signing, improper documentation and lost paperwork, and create dozens of new consumer protections. The new standards provide for strict oversight of foreclosure processing, including third-party vendors, and new requirements to undertake pre-filing reviews of certain documents filed in bankruptcy court.
The new servicing standards make foreclosure a last resort by requiring servicers to evaluate homeowners for other loss mitigation options first. In addition, banks will be restricted from foreclosing while the homeowner is being considered for a loan modification.
The new standards also include procedures and timelines for reviewing loan modification applications and give homeowners the right to appeal denials. Servicers will also be required to create a single point of contact for borrowers seeking information about their loans and maintain adequate staff to handle calls.
---