---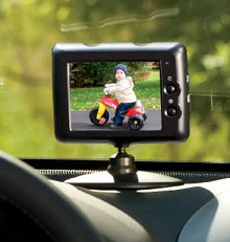 Today's cars are filled with all kinds of gadgets that keep us entertained and help us avoid getting lost. But most electronic gadgets contribute little or nothing to safety and are, instead, potentially dangerous distractions.
Auto safety regulators are about to change that by requiring that automakers put rearview cameras in all cars by 2014, according to The New York Times. The cameras are now available as options on luxury cars.
The Times quotes an estimate by KidsAndCars.org that two children die and about 50 are injured every week when someone accidentally backs over them. All too often, the person driving is a parent, grandparent or other close relative.
The cameras are expected to cost between $160 and $200 per vehicle and, if the usual pattern prevails, manufacturers and dealers will claim that the resulting higher car prices will hurt sales.
Cameron Gulbransen
The proposed regulation is the result of the Cameron Gulbransen Kids Transportation Safety Act of 2007, passed by Congress back in 2008. It's named after a 2-year-old who was killed when he was inadvertently backed over by an SUV. Parents, consumer and safety groups praised the bill as an important child auto safety measure at the time it was passed.
The National Highway Traffic Safety Administration has been working to craft the proposed regulation since then. KidsAndCars and other consumer and safety groups have been pushing for adoption of the standards that will be sent to Congress by NHTSA this week.
"We know what the problems are, we have inexpensive and effective technological solutions available and now we will have a law that includes deadlines for federal government action," said Jackie Gillan, vice president of Advocates for Highway and Auto Safety.
Back-over incidents have increased dramatically in recent years, claiming the lives of at least 474 children from 2002-2006 compared to 128 from 1997-2001. Backovers now account for half of all non-traffic fatalities involving children, safety groups estimate.
The reason for the increase isn't clear but the popularity of SUVs and other high-riding vehicles is thought to be a factor, as is the poor rearward visibility of cars that use an aerodynamic design to improve gas mileage.
Oddly, no one is quite sure just how many such incidents there are. That's because NHTSA collects reports on injuries only from vehicles in motion on roads and highways, not driveways or parking lots.
Jeep Commander
A Consumer Reports' examination of vehicle blind zones in 2006 found the 2006 Jeep Commander Limited ranked as the worst vehicle overall. CR measured the blind zone behind the Commander at 44 feet for a driver who is five feet, eight inches tall and a stunning 69 feet for a shorter driver (five feet, one inch tall) with all three rows of seats raised.
The vehicle that previously held the worst blind zone record in Consumer Reports' tests was the 2002 Chevrolet Avalanche 1500, a pickup truck, which had a blind zone of 29 feet for a five-foot, eight-inch driver and 51 feet for a five-foot, one-inch driver.
It's estimated that about 100 deaths and thousand of injuries could be avoided each year by eliminating the wide blind spot behind most vehicles.
---