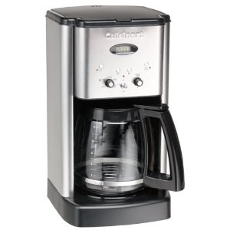 Peggy, of Chrisney, Ind., says she purchased a Cuisinart coffee maker less than a year ago and this week the wiring overheated and burned.
"I want satisfaction from the company," Peggy told ConsumerAffairs.com. "Can I return this to the place I purchased it or will Cuisinarat make this good? Someone should make this right for the price I paid for the product. With all the complaints on this site, why has Cuisinart not recalled their product?"
To answer Peggy's first place, no, she should not return the item to the retail store. Instead, she should contact Cuisinart directly. In all likelihood the product has a one-year warranty so Peggy should be covered.
As for Peggy's second questions, companies usually don't recall products unless they are forced to. And that doesn't happen unless lots of consumers complain to the U.S. Consumer Product Safety Commission.
Common problem?
So is this a common problem?  It certainly seems to be, judging from the 100 or so complaints we've received at ConsumerAffairs.com.  Here's a sampling:
Lawrence of Hinckley, OH: Purchased a Cuisinart Coffee Maker for our office less than 1 year ago. This morning, 1-31-12, the girls in the office heard a crackling sound. Upon further investigation, smelled strong electrical burning and discovered smoke pouring out of the coffee maker.
HP of Valrico, FL: Cuisinart 12-cup coffee pot after less than one year of use caused an "electrical melt down" a few days ago. Had I not been home, who knows the extent of damage it could cause? After checking online evidently this has been a "known" problem!
L of Syracuse, NY: As in all other posts, loud crackling noise, smoke pouring from coffeemaker. Luckily, I was home. DCC2200 model was purchased in Feb 2011. I absolutely cannot believe that a recall has not been issued. I am not hopeful they will honor my refund request. I will certainly not be buying a Cuisnart small appliance in the future.
But in the social media world, the little birds are tweeting and everyone's smiling, at least according to a computerized sentiment analysis of about 750 comments on Twitter, Facebook and so forth.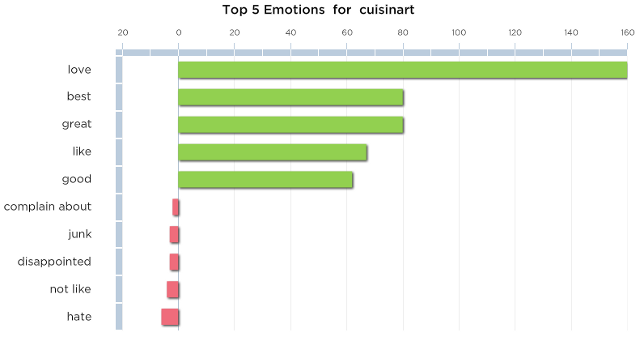 Why the disparity?  Hard to say but if 100 or so people have a problem and 700 or so don't, that's still not very good odds.  A prudent consumer might consider that one in eight chance of having a meltdown in the kitchen and look elsewhere.
---
Sentiment analysis powered by NetBase