---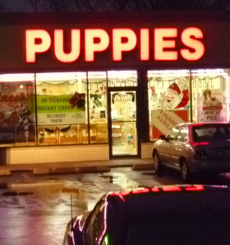 A class-action lawsuit charges that the Happiness Is Pets chain store misrepresents that its puppies come from small-scale breeders, though they actually come from "some of the most despicable and horrendous puppy mills in the Midwest."
Lead plaintiff Jane Clifford seeks punitive damages from 18 Happiness Is Pets branches in the Chicagoland area, and their owner Ronald Berning, Courthouse News Service reports.
"Plaintiffs purchased sick puppies sold by Happiness which falsely represented that its puppies were healthy and came from private and reputable breeders. In fact, the puppies at Happiness are often sick and come from some of the most despicable and horrendous puppy mills in the Midwest," the complaint states.
That's similar to the experience Ida of Lombard, Ill., recounted in a complaint to ConsumerAffairs.
"I adopted a dog from a couple who bought her at Happiness is Pets in Orland Park four years ago. The store told them she came from a reputable breeder. Big lie," Ida said. "Since then, she has had so many problems, I decided to research her breeder. I found out that her breeder was Marty who runs puppy mills."
Ida said that she researched the matter and found that her dog and others sold by the store come from a puppy mill in Iowa.
"My dog, a cockapoo that I adopted from the couple, could not drink her water when she was a puppy. She would gag and start coughing every time," Ida said. "I found out they use hamster tubes for the puppies to drink from. I literally had to teach her to use a bowl!"
Severe allergies
Ida said her dog also has severe allergies and constantly licks and grooms herself.
"Now she is 4 and I have her on 2 pills daily and two baths every week due to allergies. The only time my poor dog is at peace is when she is asleep. No dog should have to live that way," she said.
The class action lawsuit charges that many puppies are sick when they get to the stores.
"On information and belief, many puppies, no more than 8 weeks old, arrive at Happiness in crowded vans, packed in crates covered with feces and urine, shaking and visibly stressed, many sick," the suit charges. "Happiness employees are directed to bathe and groom the puppies and administer antibiotics and deworming treatments daily, in an effort to mask the unhealthy condition of the puppies.
"These deceptions are perpetrated so as to prevent plaintiffs from realizing the obvious - that purchasing a puppy from Happiness is a terrible idea and is financially and emotionally burdensome," the suit alleges.
The plaintiffs seek punitive damages for fraud, negligent misrepresentation, and breach of implied warranty, and want Happiness enjoined from continuing its allegedly deceptive practices. They also seek refunds of the price of the puppies, including all items associated with the purchases, and veterinary expenses.
---