---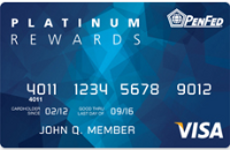 Prices at the pump have surged in the last month amid predictions they will go even higher as summer approaches. Is there anything consumers can do to make a fill-up less painful?
Maybe. Using the right credit card, it turns out, can have gasoline-related advantages.
Card Hub, a company that analyzes credit card offers, reports there are two types of credit cards that offer gas rewards: gas station-affiliated credit cards and generic gas credit cards. Which type consumers get depends on their geographic location and spending habits.
Card Hub analyzed 1,000 cards listed the cards it says provide the best deals for motorists. The top three among generic gas credit cards are:
Pentagon Federal Credit Union Platinum Cash Rewards Credit Card – This is one of the Pentagon Federal Credit Union credit cards that offers 5% cash back on gas purchases at any station (as long as they're paid at the pump) in addition to 1% cash back on all other purchases. While these cards do not have initial bonuses or annual fees, they do require PenFed membership, which will cost you $15.
Blue Cash Everyday from American Express – Provides 2% cash back at gas stations and department stores, 3% at supermarkets, and 1% on everything else. It has no annual fee and gives you a $100 bonus for spending $1,000 in the first three months.
TrueEarnings Card from Costco and American Express – Gives you 3% cash back on all gas purchases up to $3,000 (1% thereafter), 2% at restaurants, 2% on travel, and 1% on everything else. This card does not have an initial bonus, and Costco members do not have to pay an annual fee.
Of the three, Card Hub CEO Odysseas Papadimitriou says the Pentagon Federal Credit Card stands out.
"It's phenomenal that Pentagon Federal Credit Union is offering 5% cash back on gas, regardless of what station you buy it at," Papadimitriou said. "Rewards earning rates that high are typically only seen on station-affiliated cards."
Among station-affiliated cards, here are Card Hub's top three:
BP Credit Card – Offers rebates of 10% for BP gas, 4% for travel and dining, and 2% for everything else for the first 60 days after account enrollment. Thereafter, consumers will get rebates of 5% for BP gas, 2% for travel and dining, and 1% for everything else. This card does not have an annual fee or an initial bonus.
Marathon Credit Card – Offers a 25-cent rebate (~6.9%) for each gallon of Marathon gas purchased during months a cardholder charges at least $1,000 on this card, $0.15/gal. (~4.2%) for spending $500 and $999.99, and $0.05 (~1.4%) for spending less than $500. This card does not have an annual fee or an initial bonus.
ExxonMobil MasterCard – Provides a 15-cent rebate (~4.2%) for each gallon of ExxonMobil gas as well as up to 2% rebates on all other purchases up to $10,000 in annual spending and 1% thereafter. This card neither has an annual fee nor an initial bonus.
While station-affiliated gas credit cards could offer the most lucrative rewards, they certainly aren't for everyone, given that users can only save on gas purchased at affiliated stations. Consumers should only open one if they're already brand-loyal in their gas consumption or could easily become brand loyal without changing their habits significantly.
---