---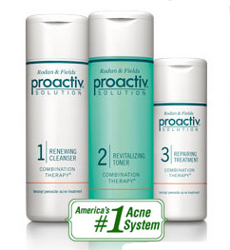 We've gotten several complaints from consumers about Proactiv, a mail order acne treatment. The complaint centers on the multiple shipments of the product the company sends, along with monthly charges to their credit card. Evelyn, of Greenwell Springs, La., thinks she's found the solution.
"I have found a way to stop future charges - cancel the credit card and get a new one," Evelyn said. "I have just discovered that this works like a charm."
Evelyn had better reconsider this. Cancelling a credit card might solve the problem short term, but it could end up with Proactiv turning the debt over to collections, and damage to Evelyn's credit score. If Evelyn believes she was deceived in this transaction, she should take the trouble to dispute it with her credit card company. That way, it's off the books and won't come back to haunt her.
Stealth 'survey'
If you run a small business, be careful who you allow to answer the phone. Or at least instruct them not to answer "surveys."
"A salesperson from Progressive Business Publications called our facility under the guise of being a survey type agency," Charla, of Watsonville, Calif., told ConsumerAffairs.com. "The employee, who is not authorized to order such items to begin with, figured it was a sales type call, didn't pay attention to the company name and basically just said yes, yes, all the way through to their questions. Unbeknown to him, through the process, this started the sending of a certain publication and at the end of the phone call all they said was 'you have 30 days to cancel.' He didn't even know what he had unknowingly signed up for!"
Charla said the next thing she knew, she had gotten a bill. If Charla, or any other business owner, thinks they were unfairly signed up for something they didn't want, they should report it to their state attorney general's office.
No flowers
Sandra, of Roseville, Calif., wanted to send flowers last weekend to her grand-daughter, who was ill. So, she ordered a bouquet through Just Flowers for Saturday delivery and paid an extra fee for delivery within a four-hour time window.
"The four hour time frame came and went and no flowers," Sandra said. When I called to inquire he assured me that the flowers would be delivered on Sunday and that my order would be the first delivery made at 9:00. By noon the flowers were still not delivered. I called and spoke to a manager who told me that they couldn't find anyone to deliver on Sunday. Keep in mind that I was the one who was calling them. Not one time did I get a follow up call or an e-mail letting me know about the problems happening."
The lesson here is, why would you use a third party company to order and deliver flowers? Sandra should have Googled "florists" in the community where he grand-daughter lives, picked one and called and talked to them directly. By talking with the florist directly, she might have gotten a better feel for whether they were actually going to "deliver."
---