---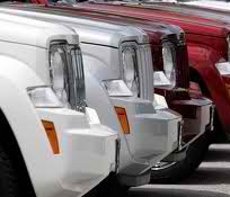 If you are in the market for a used vehicle, time is of the essence, according to Kelley Blue Book, a provider of new- and used-car information.
The company says it expects used-car values to increase three to five percent in the first quarter of 2012, with gains continuing into the second quarter. Making a purchase early in the quarter, Kelly says, can help you get a better deal.
Used car values have been flat through the first two weeks of January; although, a handful of segments have started to increase earlier than originally anticipated. Non-luxury cars and crossovers increased between $50 and $10 in the past week alone, and they will likely continue to rise in the weeks and months ahead, the company predicted.
Slowdown in lease returns
One reason for the upward pressure on prices is a slight slowdown in lease returns and an aging fleet of vehicles. Kelly said that's likely to keep prices high through most of this year, potentially higher than the record levels established in 2011. The inventory of late-model used cars is often made up of leased vehicles and corporate and rental car fleets.
"Consumers eyeing one of the many highly acclaimed redesigned 2011 model-year vehicles for their next used car should be prepared to pay a significant premium," said Alec Gutierrez, senior market analyst of automotive insights for Kelley Blue Book. "For example, the 2011 Chevrolet Cruze and Kia Optima currently maintain a premium higher than 40 percent versus the 2010 model-year counterpart, significantly outperforming the Honda Accord and Toyota Corolla, which weren't redesigned for model-year 2011."
Redesigns are attractive
Car shoppers are often attracted to a model that has undergone a major redesign, setting it apart from earlier models. Car salesmen know this and attach a premium to these cars, especially when the outgoing generation was an under-performer in its segment.
Increasingly, consumers turned to cars that are one to three years old instead of purchasing a new car . New cars have always carried a higher price that often goes down as soon as the new owner drives it off the lot.
But Kelly says even used cars are going to be more expensive this year. No matter what vehicle a shopper may have in mind, higher prices are the reality of today's market and used vehicles will only become more expensive and difficult to come by as time goes on, the company said.
---