---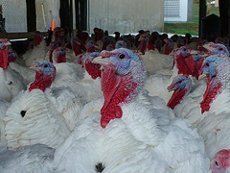 The U.S. Department of Agriculture (USDA) says it can inspect chickens and turkeys quickly and more cheaply with a new system it has devised, but some consumer advocates think the agency is playing chicken with public health.
"The modernization plan will protect public health, improve the efficiency of poultry inspections in the U.S., and reduce spending," Agriculture Secretary Tom Vilsack said. "The new inspection system will reduce the risk of foodborne illness by focusing Food Safety Inspection Service (FSIS) inspection activities on those tasks that advance our core mission of food safety."
Currently, some FSIS employees in poultry establishments perform several activities which are unrelated to food safety, such as identifying visual defects like bruising, while others conduct the critical inspection activities. Under the proposed plan, all FSIS inspection activities will focus on critical food safety tasks to ensure that agency resources are tied directly to protecting public health and reducing foodborne illnesses, Vilsack said.
But the Consumer Federation of America said it has several concerns with this announcement. It said Vilsack's announcement precluded any independent review of the new standards, something that had been requested recently by Sen. Kirsten Gillibrand.
Michael F. Jacobson, executive director of the Center for Science in the Public Interest, said USDA should "modify its inspection program carefully to ensure that the program reduces the unacceptably high levels of Salmonella and Campylobacter in chicken and turkey."
"One can't escape the fact that the government is shrinking, and that historic programs like this one need to demonstrate their value. The proof will be in reduced contamination rates, leading to fewer deaths and illnesses," Jacobson said.
Meat industry groups expressed support for the program.
"As new research expands our ability to respond to food safety issues, it is essential that we embrace new inspection approaches that keep pace with that knowledge," said AMI Executive Vice President James H. Hodges. "While our knowledge has grown exponentially in the last two decades, there have been no major changes to our federal poultry inspection system during this period. We commend USDA for embracing science and we look forward to working with them as they finalize the rule and implement this new approach."
---