---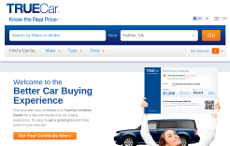 Online new-car discounter TrueCar.com is reworking its business model to satisfy state laws that prohibit brokering or "bird-dogging" of cars.
Operating much like Priceline.com, TrueCar.com invites consumers to enter the make and model car they're looking for, then claims to find the best available price in their area and puts them in touch with the dealer offering that price.
It sounds aboveboard and many dealers were enthused about TrueCar's ability to gets cars rolling off their lots. Other dealers weren't so happy; they saw sales going to other dealers and found themselves with little alternative but to cut prices while paying a bonus to TrueCar for each sale.
"Too competitive"
Soon came squawks from states that have laws set up to protect auto dealers from becoming -- let's say -- too competitive. In many states, laws that dealers themselves wangled out of their legislature prohibit third parties from getting in between car dealers and their customers. That spelled trouble for TrueCar.com, which is what's known in Internet parlance as a "lead provider" -- someone who puts buyer and seller together and takes a piece of the action.
So now TrueCar founder Scott Painter says his company will change the way it charges particpating dealers -- basically charging them a monthly subscription fee instead of the per-car finder's fee of $299 for each lead that results in a new-car sale.
Painter said that TrueCar has suspended its service in Colorado, Nebraska, Oklahoma and Louisiana until those states have signed off on the changes it's making. And he says that he will look at the laws in every state to be sure he's in compliance.
Even in states, like California, that allow brokering, TrueCar will switch to a subscription model, he said.
Disclosures
Besides the brokering restrictions, TrueCar has also run afoul of various state laws governing disclosures. To comply with those laws, TrueCar will state its promised discounts in terms of a dollar-figure discount from the sticker price, not the invoice price.
Several states ban the term "invoice" in car ads, saying it is not always an accurate measure of the dealer's true cost.
While some of the state laws TrueCar has run afoul of are intended to protect consumers, just as many -- if not more -- are the result of years of lobbying by car dealers determined to protect themselves from what they view as unfair price competition.
Even after all the changes are made, one thing about the TrueCar process will stay the same: After choosing a make and model, picking options and getting what is supposedly the lowest available price, consumers will have to provide their name, address and contact information.
Only then will they be able to print a "certificate" that they can take to the dealer to get the price quoted by TrueCar.
Consumers will still have to be prepared for all the usual tricks of the trade -- cars that are mysteriously out of stock, options that weren't included on the TrueCar site and all the usual fees, charges, taxes and other miscellany that tend to creep in at the last minute.
---