---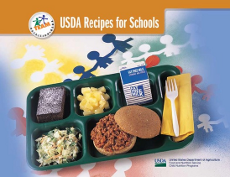 A new report from the C.S. Mott Children's Hospital National Poll on Children's Health identifies what it says is an unintended consequence of the new anti-obesity emphasis in the nation's schools.
The findings suggest we're trading one health problem for another, with some children now showing signs of developing eating disorders.
Worrisome behavior
The poll asked parents about obesity prevention programs in their children's schools and about food-related behaviors and activity that may be worrisome.
Overall, 82 percent of parents of children age 6-14 report at least one school-based childhood obesity intervention program taking place in their child's school.
Among these programs are nutrition education, limits on sweets or "junk food" in the classroom, height and weight measurements, and incentives for physical activity.
Additionally, seven percent of parents report that their children have been made to feel bad at school about what or how much they were eating.
Signs of eating disorder
This same group of parents was also asked about their children's eating behaviors.
Thirty percent of parents of 6-14 year-olds report least one behavior in their children that could be associated with the development of an eating disorder. These behaviors include inappropriate dieting, excessive worry about fat in foods, being preoccupied with food content or labels, refusing family meals, and having too much physical activity.
"The issue of childhood obesity is a serious problem," said Dr. David Rosen, Clinical Professor of Pediatrics at the University of Michigan Medical School. "In order to intervene in what seems like an epidemic of childhood obesity, everyone needs to be involved."
But Rosen worries that when obesity interventions are put in place without understanding how they work and what the risks are, there can be unintended consequences. Well-intentioned efforts can go awry when children misinterpret the information they're given.
Just a phase
"Many of these behaviors are often dismissed as a phase," said Rosen. "But given what we know about the association of these behaviors with the development of eating disorders and knowing that eating disorders are increasing in prevalence, they should be taken very seriously."
Is it possible for children to be "too physically active?" Some parents seem to think so. Of the parents that report incentive programs at their children's school to increase physical activity, 11 percent say their kids get too much exercise.
Whether the parent's concern is misplaced or not, Rosen says it's inportant that parents are in touch with their children's behavior.
"It's much better and safer for parents to respond to worrisome eating behaviors early – even if there turns out to be no problem – than to wait until there is obviously a big problem,' Rosen said. "It is much easier to prevent an eating disorder than it is to treat an eating disorder."
---