---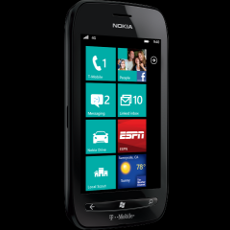 The tech world is abuzz about a new smartphone today -- and no, it's not an iPhone or an Android. It's the Lumia 900, Nokia's attempt to fight its way back into the smartphone market.
The Lumia 900 goes on display at the International Consumer Electronics Show in Las Vegas Monday and will be sold through AT&T stores. It joins the simpler Lumia 710, already available through T-Mobile.
But what's causing all the buzz is not the hardware behind the Lumia. It's the software. That's because the Lumia 900 runs Windows Phone, long derided by the technohip as a drab also-ran, somewhere on the evolutionary scale between a rotary dial phone and an early Blackberry.
But the latest version of Windows Phone -- known officially as 7.5 Mango -- is turning heads with a snappy design that critics say shows the kind of obsessive attention to detail and usability that has long defined Apple products.
Mom factor
"Our work is very visual, very engaging, and it also has the Mom factor—you can show your Mom exactly what you're working on and she'll get it," said James Drage, a senior software development engineer on the Windows Phone Shell Team, in a news release.
Ricardo Espinoza, a software development engineer on the team, agreed. "Working on the Windows Phone has taught me how important it is to create something that's intuitive right out of the box," he adds. "Mobile phones need to be easy to use even for somebody who's never used one before. You can't have a learning curve."
Drage helped develop several features for the start screen including a prominent feature called the "task switcher" that enables users to flip back and forth among applications that are running. That's part of what sets Mango apart from earlier versions, and from other smartphone operating systems: it runs many programs in the background, alerting you with a flashing button when something new wants your attention.
Hard-wired
Both Facebook and Twitter, for example, are hard-wired directly into Mango, so that they're running all the time. A button flashes when a friend posts a new update or someone you're following emits a new tweet.
Not too many mortals, us included, have yet seen Mango in person so we have to take the word of reviewers like the New York Times' Nick Wingfield, who is impressed by the "bold, on-screen typography and a mosaic of animated tiles on the home screen."
The tiles light up as calls come in, emails are received and social networks beckon. The design is said to be much easier for the average user to understand. Anyone who's ever fumbled frantically with the latest 'Droid trying to figure out how to unlock the damned phone and answer a call should appreciate the simple way in which a tile springs to life -- making it easy to figure out what's demanding your attention and, just as important, making it easy to respond by simply pressing the blinking tile.
Will it catch on? It's too soon to say but both Microsoft and Nokia desperately need a hit. Microsoft has been on the sidelines of the smartphone wars for years, losing vital market share to Google and Apple while Nokia has been shoved aside by the likes of HTC and Samsung.
---