---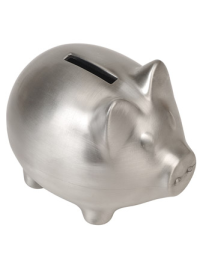 There's a lot of bantering by wealthy politicians about who's truly rich, whether the rich should pay more taxes and whether a $10,000 bet is excessive. There's not much talk, though, about who's poor and who's in imminent danger of becoming truly penniless -- but a report released today suggests that maybe there should be.
The Corporation for Enterprise Development (CFED) finds that nearly half of U.S. households (43 percent) have almost no savings and 27 percent are "asset poor," meaning they lack both savings and other assets to cover basic expenses for just three months if a layoff or other crisis leads to loss of income.
That's an increase of 21 percent since the last time the CFED compiled its Assets & Opportunity Scorecard in 2009-2010. The number of asset poor families has increased by 21 percent -- from one in five families to one in four families -- in just two years. The asset poverty rate is now nearly twice as high as the Census Bureau's official income poverty rate of 15.1 percent.
For the first time the Assets & Opportunity Scorecard includes a measure for "liquid asset poverty," which excludes assets such as a home, business or car that can't easily be converted to cash. It consequently provides a more realistic picture of the resources families have to meet emergency needs.
According to that measure, 43 percent of households nationwide are "liquid asset poor" with little or no savings to fall back on if emergency strikes. Most bankruptcies are the result of health crises and job loss, the two swords that hang over the heads of those with few or no liquid assets.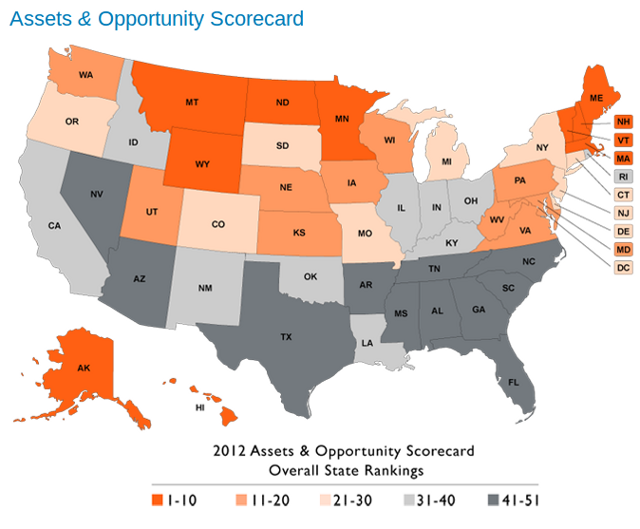 No savings, no cushion
"Growing numbers of families have almost no savings or other assets to see them through if they lose their jobs or face a medical crisis," said Andrea Levere, president of CFED. "Without savings, few will be able to build a more economically secure future, including buying a home, saving for their children's college educations or building a retirement nest egg."
Levere added that the Scorecard findings are "particularly disturbing in the context of precipitous drops in incomes for many Americans and widening of the wealth gap between the richest and poorest households."
The report found that households of color are more than twice as likely as white households to be asset poor — 44 percent compared with 20 percent, respectively. A similarly high proportion (65 percent) of households of color is liquid-asset poor compared with 34 percent of white households.
The Scorecard also found sizable differences between states, with asset poverty rates ranging from a high of more than 45 percent in Nevada to a low of 15.7 percent in Vermont; liquid asset poverty rates ranged from 64.5 percent in Alabama down to 22.8 percent in Hawaii.
Typically, states with programs and policies in place to address growing need were in far better shape than those with a less robust safety net. For instance, Nevada's policies to support financial security and opportunity are among the weakest in the country, while Vermont has a long history of supporting such efforts. The Scorecard presents data on the array of state policies that help families move along a path from financial insecurity to economic opportunity.
Key findings
The Scorecard also assessed a variety of measures that affect people's ability to save and build assets, including job quality, homeownership, access to credit and education. Among the key findings:
More than half of consumers (56 percent) have subprime credit scores.
Between the third quarters of 2008 and 2011, the home foreclosure rate increased by 50 percent, widening the already-considerable homeownership gap between white households and households of color. As of 2010, 73 percent of white households owned homes, compared with just 47 percent of households of color.
One in five jobs is low-wage and nearly half of employers do not offer health insurance. In addition, 55 percent of workers do not have or participate in retirement plans.
While the number of people getting four year college degrees is up slightly, the average debt for graduating college seniors has risen 19 percent since 2007 to $25,250.
The complete report is available online.
---