---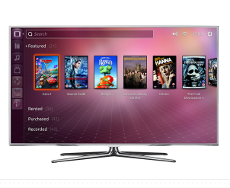 You might not know what Ubuntu is and even if you do, you may not associate it with TV, but nevertheless Ubuntu TV made its debut at the Consumer Electronics Show in Las Vegas today.
First things first. Ubuntu is generally considered the most popular version of Linux, the open-source software that powers most of the Internet and a lot of the other gadgets, utilities and industrial processes.
In addition to that, Ubuntu produces an operating system adapted for laptops and desktop computers that's similar to what you'd see on an Apple or Microsoft-powered machine. (The name derives from a Southern Africa philosophy that espouses caring and friendship).
Lately, users of the Ubuntu desktop -- who tend to be gearheads -- have been grousing that their computer screen increasingly resembles a tablet computer or, even odder, a TV set. Instead of the usual small, boxy menus, Ubuntu has sprouted big buttons that appear and disappear as one mouses around the screen.
Now we know why. Canonical, the U.K.-based company that produces Ubuntu, has been edging towards the home television market, promising that the software will provide:
Easy integration of broadcast, online services and applications.
Modern broadcast TV experience – search, watch, record and play.
Millions of movies and TV shows streamed over the web on demand.
Sound familiar?
Does this sound a lot like what Apple, Microsoft and Google have been promising for their TVs? If so, it's not surprising. Ubuntu has for years matched -- some would say exceeded -- everything Apple and Microsoft have done for computers, so why would it not do the same for the new world of TV, the one that integrates the Internet, cable, broadcast, DVD, DVR and just about any other source you can think of?
Aside from complaints by its geeky users who resent anyone messing with their laptop design, Ubuntu has a sterling reputation for technical innovation and reliability. Crashes, lock-ups, virus infestations are virtually unknown in the world of Ubuntu. Of course, whether that rock-solid reputation transfers to TV remains to be seen.
Oh, did we mention that the versions of Ubuntu that power servers, laptops and desktops are free? Commercial clients can buy support services from Canonical but it's not required and the vast majority of individual users rely on forums and their instincts to keep things running smoothly.
Canonical says it expects to have its first Ubuntu-powered TVs on store shelves by the end of this year. Canonical also promises tablets and smartphones sometime soon.
---
Disclosure: The author is a longtime Ubuntu adherent who habitually pesters friends and colleagues, pressing Ubuntu installation CDs on them and pleading with them to dual-boot their machines, a suggestion not appreciated by those of a conservative bent.
---