---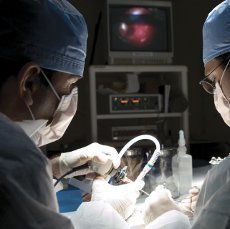 New research shows that men are three times more likely to have an oral human papilloma virus (HPV) infection than women. The findings help explain why HPV-related oral cancers are three times more common in men than women.
Dr. Maura Gillison, a medical oncologist and head and neck cancer specialist at the Ohio State University Comprehensive Cancer Center, led the study, which was published online by the Journal of the American Medical Association.
Gillison and her collaborators sought to determine the prevalence of oral HPV infection in the United States and to understand the factors associated with infection and oropharyngeal cancer, tumors that affect the base of the tongue, the tonsils or back of the mouth. They analyzed mouth-rinse samples for HPV DNA and examined data collected from 5,579 men and women who participated in the 2009-2010 National Health and Nutrition Examination Survey.
"This study of oral HPV infection is the first step toward developing potential oropharyngeal cancer prevention strategies," says Gillison. "This is important because HPV-positive oropharyngeal cancer is poised to overtake cervical cancer as the leading type of HPV-caused cancer in the United States, and we currently have no means to prevent or detect these cancers early."
7% infected
The researchers estimate that 7 percent of Americans between ages 14 and 69 have an oral HPV infection, or about 14.9 million people, with 10.1 percent of men infected versus 3.6 percent of women.
Other key findings include:
About 1 percent of the U.S. population is infected with HPV 16 – the type of HPV most often responsible for cervical cancer – and that HPV 16 infection is five times more common in men than in women.
Oral HPV infection was uncommon among those with no history of sexual contact compared with those with a history of sexual contact of any type (0.9 percent vs.7.5 percent, respectively.)
Oral HPV infection was independently associated with age, gender, number of sexual partners and current number of cigarettes smoked per day.
Funding from Merck, John and Nina Cassils, and the Intramural Research Program of the National Cancer Institute supported this research.
---