---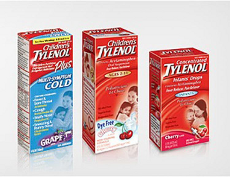 Johnson & Johnson is accused of conducting a "phantom or stealth recall" of tainted Children's Tylenol that led to the death of Daniel and Katy Moore's son.
In a lawsuit filled with scathing accusations, the Moores say their two-year-old son, River, died of liver failure in July 2010, the day after he took Children's Tylenol. Katy Moore says she gave River a dose of Tylenol and within 30 minutes, he was spitting up blood.
"Defendant Johnson & Johnson, a Fortune 50 Company with $60 billion in annual sales, knew of defects, impurities and contamination in the children's drugs and, yet, embarked on a 'phantom' or 'stealth' recall of these drugs to hide these problems so the general public, ignorant of the dangers, would continue buying and administering these brand name drugs to their children," the complaint states, according to Courthouse News Service.
The Moores charged that Johnson & Johnson went around on the sly, collecting the tainted drug from stores without issuing a recall , "so the general public, ignorant of the dangers, would continue buying and administering these brand name drugs to their children."
Besides Johnson & Johnson, the suit names McNeil Consumer Healthcare, Costco and a long list of others in the chain of supply and distribution, and third-party contractors who allegedly bought up the over-the-counter drugs in the "phantom recall."
The Moores also claim the defendants ignored deplorable manufacturing conditions and had numerous recalls of its products, including its infants and children's Tylenol.
Internal documents
The suit quotes a number of internal documents to bolster its claim that Johnson & Johnson knew of the danger but wanted to save the expense of a recall.
"The purpose of the phantom/stealth recall is evidenced in an internal email in which a McNeil executive said, 'We are just trying to prevent a recall and a lot of expended dollars,'" the suit alleges. "In another email, a McNeil executive described the success of the phantom/stealth recall by saying, 'This was a major win for us as it limits the press that will be seen.'
The suit says J&J hired third-party distributors to make the rounds of stores, scooping up the defective products, then misrepresented their actions to the government.
"J&J and McNeil subsequently misrepresented to the FDA that their third-party contractors were merely performing an audit of retailers to determine whether McNeil should initiate a formal recall," the suit allges. "The FDA eventually became aware of the phantom/stealth recall when it received a copy of an internal memo containing the above instructions and confronted McNeil regarding those activities.
FDA warning
In May 2010, the Food and Drug Administration (FDA) urged consumers to stop using Children's Tylenol and other over-the-counter products made by McNeil Consumer Healthcare.
The agency said its inspectors encountered thick dust and contaminated ingredients at the Fort Washington, Pa., plant producing the products. Some equipment was covered with grime, there was a hole in the ceiling in one room and pipes were patched with duct tape.
On closer inspection, FDA said it found raw ingredients contaminated by an unspecified bacteria, a lack of quality control procedures and poor handling of complaints. Among the complaints, the agency said, were 46 reports of "dark material" in the liquid products between June 2009 and April 2010. While bacteria were present in the plant, FDA said its tests failed to detect it in any finished product.
Many Tylenol recalls
There's certainly been no shortage of Tylenol recalls, including:
June 3, 2005 Several types of Children's Tylenol recalled because label information may be confusing and could lead to overdosing.
September 27, 2009 Certain children's and infant's Tylenol products that were manufactured between April 2008 and June 2008 were recalled. The company said potential manufacturing problems could result in bacterial contamination.

January 15, 2010

Tylenol, Benadryl, Motrin and Rolaids recalled because of reports of an unusual moldy, musty, or mildew-like odor.

Children's Tylenol

The recall included some Children's Tylenol as well as adult-strength Benadryl, Motrin IB, Tylenol Extra Strength, Tylenol Day & Night and Tylenol PM. The company said the expanded recall was triggered by consumer complaints of a musty, moldy odor.
January 18, 2011 More products recalled because of "musty or moldy odor."
---