---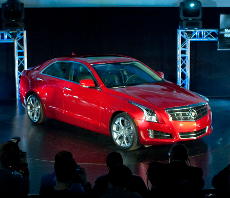 2013 Cadillac ATS (GM Photo)
At the U.S. government's urging, auto manufacturers have bought into a future of hybrid and electric cars in a big way. The North American International Auto Show in Detroit is a case in point, trumpeting a number of new hybrid and electric cars that get exceptional gas mileage.
But in a report from the auto show, Bloomberg News notes another, less-observed development: carmarkers are making ordinary gasoline-powered cars smaller, lighter, and with pretty impressive gasoline mileage.
For example, General Motors has introduced a Cadillac ATS that is said to achieve a nearly 40 miles per gallon highway rating, putting it on par with some hybrid models. And the Cadillac, even though it's a luxury car, costs less than some hybrids and certainly less than gas/electric plug-in models.
The Chevy Volt, for example, had a base sticker price of $40,000 when it was introduced last year. The Volt is powered by a bank of batteries that are charged when plugged in overnight. It also carries a small onboard gasoline engine that can recharge the batteries while underway.
GM has sold only a limited quantity of the cars so far and recently asked owners to return them to dealers for modifications to secure the batteries after a couple of fires were reported following crash tests.
There are many more hybrids on the road these days The Toyota Prius is perhaps the best known of the growing fleet of hybrids. It carries a base price of $23,520 for the hatchback model and achieves a 51 city, 48 highway miles per gallon rating.
Comparison
Compare that to the Hyundai Elantra, just crowned 2012 North American Car of the Year. The Elantra, powered by a four-cylinder gasoline engine, has a base price of $15,195 and achieves a mileage rating of 29 highway, 40 highway.
While the Prius is more fuel efficient, consumers will pay a premium to drive it. Then, there are maintenance costs.
ConsumerAffairs.com reported in 2008 that consumers reported a number of expensive repairs when they purchased a used Prius. The fuel savings were often offset by large repair bills.
The New York Times also noted an absence of buyers for hybrid and electric cars, noting analysts do not expect the segment to grow this year, if gasoline prices stay below $4 a gallon. The reason? The higher upfront costs. Initial sales for both the Chevy Volt and the competing Nissan Leaf fell short of expectations.
Meanwhile, manufacturers do not seem deterred, unveiling still more hybrid and electric models at this week's auto show in Detroit.
---