---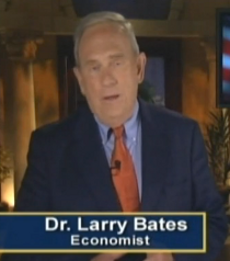 A federal class action lawsuit says that onetime Tennessee state legislator Larry Bates, now a self-proclaimed "Christian" financial adviser, has defrauded investors who put their faith and trust in him.
Bates, a Democrat who served in the Tennessee General Assembly from 1971 to 1976, "targets devout, Christian believers, elderly individuals, and widow/widowers with significant life savings, all who are seeking advice and help from a trusted Christian adviser and/or a Christian financial company," the lawsuit charges.
Plaintiffs Damian Orlowski of Chicago and Lynn Cechin of Texas filed the suit against Bates and other defendants including Radio Information Network, INC/IRN USA Radio News; Information Radio Network/IRN USA Radio News; Information Radio Network Inc.; and Barry Denison, a "senior staff economist" for Bates's First American Monetary Consultants (FAMC), "who travels regularly, advertising for FAMC and speaking on the economy, the threat of Islam, and the question of Israel and the church," Courthouse News Service reported.
The class claims Bates promised to move million of dollars in precious metals quickly on investors' behalf, but after getting his hands on the money said that delivery of the coins would be delayed by as much as a year. In some cases, orders were only partially filled, according to the complaint.
The complaint includes a list of 26 other people who allegedly suffered at the hands of the defendants.
Radio solicitation
The class claims Bates uses his radio show, "News and Views," broadcast via Information Radio Network/IRN USA Radio News, to solicit for a wide range of products, including his books, an FAMC publication called "Monetary and Economic Review," DVDs and videos, and for himself, for personal appearances and speaking engagement at conferences.
Bates's and Denison's purported "expertise" is in teaching how to use gold and silver as economic insurance to protect one's assets, including retirement accounts, according to the complaint.
The two men quote extensively from the Bible in their sales pitch, the plaintiffs say. The plaintiffs say Bates relies on a "world's end, sky is falling" approach to encourage Christians to buy precious metals from his companies.
The class claims Bates lures Christians with statements such as: "Life as we have known it in the United States is about to change and change drastically ...The two things that will determine whether you and your family are wiped out by the storm are knowledge and action ..."
In fact, the class claims, the defendants' actions are intended solely to benefit themselves.
---