---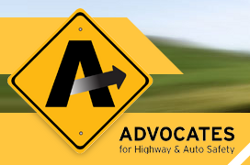 A highway safety group today released its annual report card grading states on their adoption of traffic safety laws -- or, to be more precise, on the states' adoption of traffic safety laws the advocacy group recommends.
Advocates for Highway and Auto Safety gave the District of Columbia and 17 states the highest rating of "green." Besides D.C., the top-ranked states were New York, Illinois, New Jersey, Oregon, North Carolina, Georgia, Kansas, Maryland, Michigan, Washington, Delaware, Maine, Minnesota, Rhode Island, Tennessee, Louisiana, and California.
The states with the worst rating of red are South Dakota, Arizona, Mississippi, Virginia, Montana, Nebraska, Ohio, and Wyoming. All other states received a yellow rating indicating caution because there was a need for improvement because of gaps in traffic safety laws.
"If states want to save lives and save money, they should look to the 2012 Roadmap to State Highway Safety Laws for guidance," said Jacqueline Gillan, president of Advocates. "This report shows that too many states have unacceptable and deadly gaps in their traffic safety laws. Political leadership and action are needed now."
Among the 15 model laws Advocates evaluated are seat belt, booster seat and motorcycle helmet measures, in addition to restrictions and requirements for teen drivers, all-driver texting bans and tougher impaired driving laws.
The group did not present any statistics to support its contention that the laws it recommends actually prevent accidents or save lies.
The federal government estimates that motor vehicle crashes cost society $230 billion every year. In 2010, nearly 33,000 people died in crashes throughout the nation and over 2 million more were injured. This is equivalent to a "crash tax" of more than $750 for every person.
"The National Transportation Safety Board has made safety recommendations on every one of the 15 laws included in the Advocates' report and some of those are also on the NTSB Most Wanted List this year," said Mark R. Rosekind, Board Member, National Transportation Safety Board.
"Drunk driving costs the United States more than $132 billion annually," said Jan Withers, president of Mothers Against Drunk Driving (MADD). "Effective laws like ignition interlock for all convicted drunk drivers will save lives and save money for states. With the technology at hand there is no excuse for states to delay enacting this lifesaving law."
The group's grading system was based solely on whether or not a state had adopted a law as defined in the report, and not on any evaluation of a state's highway safety education or enforcement programs.
In 2011, two states improved their rating from Yellow to Green -- Maine and Rhode Island. Two states upgraded from Red to Yellow -- North Dakota and Pennsylvania.
In 2011, 13 states enacted one or more of Advocates' recommended highway safety laws for a total of 16 new laws. No state enacted an all-rider motorcycle helmet law although there were 13 attempts to repeal existing laws.
Advocates for Highway and Auto Safety is a coalition of insurance, consumer, health, safety and law enforcement organizations that work together to advance state and federal highway and vehicle safety laws, programs and policies. The complete 2012 Roadmap to State Highway Safety Laws, speaker statements and the news conference webcast can be found at www.saferoads.org.
---