---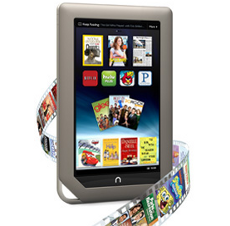 It looks like the Nook may be the next casualty of the raging ebook battle, which is increasingly being fought between the Kindle, the Kindle Touch, the Kindle DX, the Kindle Fire, the iPad and a few smaller players.
Barnes & Noble said today it is looking at spinning off the Nook which, though successful, is a drain on earnings.
"We see substantial value in what we've built with our Nook business in only two years, and we believe it's the right time to investigate our options to unlock that value," Chief Executive William Lynch said.

Seeking to put a happy face on the situation, B&N reported "record holiday sales" for Nook devices and digital content. During the nine-week holiday period ending December 31, 2011, Nook unit sales increased 70% over the same period last year.
The company said that while sales of the Nook Tablet exceeded expectations sales of the Nook Simple Touch "lagged expectations, indicating a stronger customer preference for color devices."
Tough times
The well-polished statements leave little doubt that Barnes & Noble -- the sole surviving nationwide bookstore chain -- is having a hard time competing with Amazon and Apple, which dominate the e-reader and e-book markets.
In a prepared statement, Lynch said that in order to capitalize on the rapid growth of the Nook digital business and B&N's position in the expanding market for digital content, the company is looking at separate the Nook business from its bookstore empire.
Doing so would remove the drag on earnings the Nook represents and allow the digital business to raise capital independently of the book business.
"In Nook, we've established one of the world's best retail platforms for the sale of digital copyright content," Lynch said. "Between continued projected growth in the U.S., and the opportunity for NOOK internationally in the next 12 months, we expect the business to continue to scale rapidly for the foreseeable future."
B&N became the last of the giant bookstore chains last year when Borders declared bankruptcy and closed all of its stores.
---