---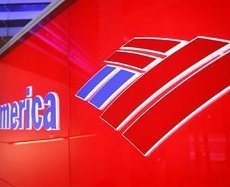 Wells Fargo can always circle the wagons when the going gets rough but Bank of America has fewer options and, according to The Wall Street Journal, may be preparing to turn tail and retreat from some areas of the country.
The Journal quoted sources as saying the giant bank has told regulators that if its financial condition continues to weaken, it may close branches and pull out of some of its less profitable markets.
There are quite a few consumers out there who would not mourn the bank's passing.
"This bank does nothing for the people that need modifications or help and all they care about is foreclosure. They should rename their bank, American Bank Of Foreclosures," said RoseAnne of Kissimmee, Fla., who said that instead of helping her family modify their mortgage, a bank rep suggested they should rent. Similar blunders, like the ill-conceived $5 fee for using debit cards, haven't exactly endeared the bank to many of its customers.
In fact, a review of 830,000 consumer comments on social media finds Bank of America firmly in the doghouse, with a net sentiment of -20%, the nadir in a year that only rarely saw overall sentiment venture into positive territory.

OK, but how do consumers really feel? Using computerized sentiment analysis, ConsumerAffairs.com distilled their top five positive and negative feelings, again based on about 830,000 comments on Facebook, Twitter and so forth.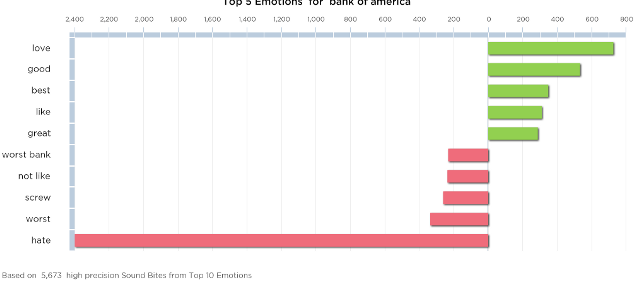 Relentlessly stalking
For 20 years, what started out as NationsBank of North Carolina, has been relentlessly stalking takeover targets, stitching together a nationwide organization rivaled only by Chase and Wells Fargo.
It was the 1998 takeover of BankAmerica Corp. of San Francisco and the 2004 purchase of FleetBoston that finally stitched together the banking blanket that now covers the country.
Could it really unravel?
It's possible. The financial crisis hit all banks hard but BA took it especially hard, thanks it its 2008 acquisition of Countrywide Financial, which made it particularly vulnerable to losses in the mortgage sector.
Now, with its share price down more than half and regulators hounding it to raise more capital to cover ongoing mortgage liabilities, the bank that ate America is in trouble.
Retrenching is one of the options the bank provided to regulators recently, the Journal said, although there are other options on the table as well.
What to do
What does this mean for consumers who do business with Bank of America?
Probably not much. Banks are bought and sold with some regularity and the heavy lifting mostly occurs behind the scenes but the possibility of BA's retreat may be something to consider if you're looking for a new bank. If BA starts cutting back branches or slicing staff, as it's already doing in at least some areas, customer service could suffer.
The best place to shop for a bank may be locally. There are 7,400 banks in the country, after all. If you live in Nevada, do you really care whether your bank has branches in Maine?
---