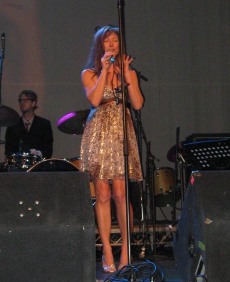 Sherry Petta (Photo credit: http://www.sherrypetta.com/)
A jury in Phoenix has ordered popular jazz stylist Sherry Petta to pay her plastic surgeons $12 million after she posted derogatory comments about them on a Web site she created.
Petta complained about the treatment provided by Albert Carlotti and Michelle Cabret-Carlotti, a husband-and-wife plastic surgery team and also alleged that the doctors were not licensed in Arizona.
That, unfortunately for her, is not true and the jury found Petta guilty of libel per se -- basically meaning that she made damaging statements that were demonstrably false.
The jury also heard testimony that Petta was a notoriously difficult patient and that the doctors had to file an injunction to keep her away from their offices after she "repeatedly screamed at the ... staff, refused to follow instructions for medical care, and obtained contra-indicated care by others without first disclosing the care to plaintiffs."
Petta, twice named Jazz Artist of the Year by the Los Angeles Music Awards, said she plans to appeal the verdict, the Arizona Republic reported.