---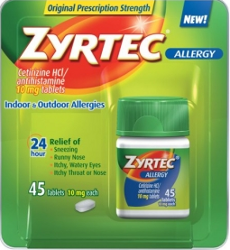 Zyrtec is an over-the-counter allergy medicine taken by millions of people. Many think it's great, unless for some reason they can't get it.
"I have been on Zyrtec for about 10 years," Michael, of Clinton, Conn., told ConsumerAffairs.com. "I took it faithfully for about 8 of those years everyday because it was indeed the magic pill. But the day I forgot to get some more and couldn't get anywhere to get more, became the night from hell."
Michael said he was kept awake by terrible itching, which went away, he said, as soon as he got back on the medication.
"Then about 8 months later I forgot to stop at the pharmacy on my way home to get some more, and then the same thing happened as before," he said. "Now I have to take this million dollar medication to keep the rash away. Makes sense from a business point of view for sure, get them hooked like druggies so they have to keep coming back."
Obviously not everyone who takes Zyrtec becomes dependent on it. But enough do, apparently, that the Food and Drug Administration should look into it to find out why. Then again, it may just be that the itchiness is a symptom of the allergy that originally drove Michael and others to buy the drug in the first place.
Confusion
Alina, of Highland Park, N.J., was one of many people who tried to order a big-screen TV online Thanksgiving weekend. Alina said she went to BestBuy.com and ordered a 55-inch set for $1400.
"The TV was available at my local store so I selected the option for a local pick-up," Alina said.
But no sooner than she received an email confirming her order, Alina said another email arrived telling her the TV was no longer available for pick-up at her store. She said she was then told it would be ready December 17 and she would receive an email when it was ready for pick-up.
"On December 5, I received an email stating that my order was cancelled," Alina said.
When she inquired about the reason for the cancellation, Alina said she was told it was because she failed to pick up her TV. The kicker? If she reordered the TV it would now be an extra $800.
This sort of thing seems to happen when you order a bargain-priced product online. Somehow it seems to disappear before it can be shipped to you. Perhaps it's wise to seek all sale-priced merchandise with an in-store purchase.
If Alina really feels burned, she should consult the New Jersey Division of Consumer Affairs.
Bait & Switch?
To make our point, here's another example of an online holiday shopper who thought she was buying something for a bargain, only to find out she didn't.
"Brookstone.com had a camera advertised online 'now $0.96,' and assuming it was a holiday special, I purchased 3 for gifts. received email confirmation, temporary authorization to my credit card," Lora, of Watertown, Mass., told ConsumerAffairs.com. "Two days later when I call to track my order, they tell me my order is cancelled, though I never got notice, then tell me the item is not available, but, oh I can reorder at the regular price of $99.99! They said it was a mistake on the price and they refuse to honor my purchase at the price on my confirmed order."
We'll go out on a limb here and say it sounds reasonable that the 96-cent price for a camera was a misprint. But that doesn't mean Brookstone shouldn't have honored it. Lora might want to take it up with someone in Massachusetts Attorney General Martha Coakley's office.
---