---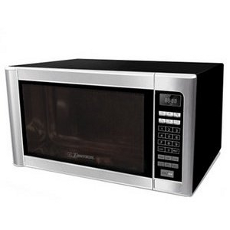 Shopping for a new microwave oven? Nancy, of Manns Choice, Pa., writes to say she has been very disappointed in her Emerson Microwave she purchased two years ago.
"It is only two years old and the inside of it is rusting everywhere," Nancy told ConsumerAffairs.com. "The paint is bubbling and rusting. Also the door will not shut or open most of the time. I contacted the company by email and ask them about the rust and they said it's my fault and they cannot help me. The way I am cleaning it and so forth and not to use it. Well, who has money to buy a new one every other year? They should last a while.I have had numerous other ovens and NEVER seen the inside rust. Never!
The inside of a microwave should not be rusting. It's hard to imagine that the method of cleaning could cause rust, unless there was some problem with the paint.
Starting over
Wayne, of Old Town, Fla., is another consumer who reports difficulty in cancelling a subscription to Sirius XM Satellite Radio.
"Tried to cancel order 60 days before expiration and withdrew credit card info," Wayne. "They said I would have to wait till it expires. They then gave me free month and auto renew my contract. Then turned me over to collection agency when I wouldn't pay. Settled with them for $20.00 and said they would not provide any evidence that I accepted a free month."
Offering a cancelling customer a "free month" as a good will token is simply a trick. If the customer accepts the free month, they have negated their cancellation - the account is still active. They have to call again to cancel it. Only they don't call because they think they already have cancelled it. It is only when they see the charge on their credit card that they realize the account is still active. By then they are into another month. The lesson? Never accept a "free month" when you are cancelling a service.
Bah, humbug!
Dana, of Braintree, Mass., isn't sending out any Christmas greetings this year. It's not that she didn't want to.
"I ordered Christmas Cards from VistaPrint on Dec 9," Dana said. "They arrived Dec 19 and were totally creased and unusable. The offer I got from VistaPrint was that they would resend them by Dec 23, not enough time to get out for Christmas. Since I used a Groupon, they offered no refund and told me to take up my concern with Groupon."
It seems Dana waited a little late to order Christmas cards. She might have been better off picking up some at a local gift shop or department store.
---