---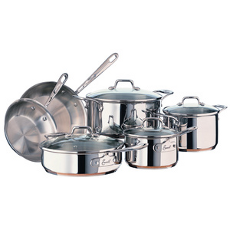 Celebrity chefs do more than show you how to cook on the Food Network. Some, including, Emeril Lagasse, have their own line of consumer cookware.
"My wife bought me a set of Emeril cookware for my birthday," Jim, of Loveland, Colo., told ConsumerAffairs.com.
"Did everything as instructed but what a pain to cook with. "No matter the heat setting it is too hot. Everything sticks and is a pain to clean. Would like to buy something else but too much cash wrapped up in this set."
People either seem to love these pots and pans or hate them. They are different from the cast iron and stainless steel many people are used to. If you use "gourmet" utensils, make sure you read the instructions carefully. Some have limits on the amount of heat they can withstand.
Grounded
Chris, of Atlanta, Ga., says he has been a long-time Delta Airlines customer, but no longer.
"I was flying from West Palm Beach to Savannah with a connection in Atlanta," Chris said. When I landed in Savannah, my checked luggage bag came out opened with items hanging out of the side. No TSA search memo inside, just opened. My Touchpad had been stolen from the bag. I addressed the issue with Delta and they informed me that anything checked that is electronic is not reimburrsable. I have trusted Delta for over 20 years, and this is how they reward my business?"
Not excusing the theft of Chris' computer, but a frequent flier these days should know not to place anything of value - particularly sensitive electronics, in checked luggage. Luggage is routinely opened and inspected now and, sad to say, many items go missing.
In defense of Ol' Roy
We've seen a number of complaints in recent weeks about Ol' Roy Dog Food, Walmart's house brand. Many pet owners have said their dogs got sick when they started feeding them Ol' Roy. That brought this response from Windy, of Tylertown, Miss.
"There is absolutely nothing wrong with this dog food," Windy said. "In many of the complaints I have read against this food many of the people stated that it was the food that made their dog sick. I feed this food to all four of my dogs. They range in size from four to 140 pounds and I have never once had a single problem with this food. Any person who has had dogs knows that switching foods takes time that you can not just give a dog or any pet a different food over night and not expect a reaction, such as loose bowels or vomiting."
Windy said she would be interested in hearing from the vets who cared for the dogs mentioned in the various Ol' Roy complaints.
---