---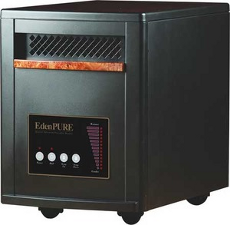 With winter on the way, consumers are thinking about keeping their homes warm over the next few months. Edenpure space heaters have proved a popular product, but not everyone is convinced.
"All of the advertising talked about heating 1000 square feet and they were offering a $349 heater for $199," Don, of Montgomery, Tex., told ConsumerAffairs.com It also said it was safe to touch. When it arrived it showed on the cover, that it was safe for pets and showed it under a desk with a woman's knee up against it."
But Don said when he opened the box it was a smaller model for 350 square feet, and and the instructions said not to block the front or the rear, suggesting it should not go under a desk as the picture showed.
"All in all, I think we got taken," Don said. "I listened to the infomercial again this morning and now they say, just send $39 and then later send four more payments, implying that those payments will also be $39, but when I called and finally, after much insistence, was told the additional payments are $89."
From our observation some people really like Edenpure heaters and some definitely do not. It might help to purchase it from a local store and not from an infomercial.
Account monitoring pays off
Verizon and other cell phone companies have been prompted by government regulators to begin warning their customers when they are about to exceed limits and incur additional charges. Robert, of The Colony, Tex., said he specifically asked when he signed up with Verizon Wireless if he would get these warnings and said he was assured that he would.
"I was more concerned about exceeding the 2gb of data," Robert said. "I also noticed on their website they state that they 'strive' to notify customers to prevent overage charges. After receiving my first bill, I noticed $403 in overage charges for voice and $73.76 in taxes! Upon contacting customer service, I was informed the keyword there is they 'strive' to inform customers."
While a reminder from the carrier is convenient, consumers should also take some responsibility for managing their account. Each Verizon Wireless customer, for example, can log into their account and monitor their voice and data usage. It's a good idea to do that on a regular basis.
Turkey-day mishap
We heard from some consumers who say their Thanksgiving feast was marred by exploding glass baking dishes in the kitchen. But Victor, of Orlando, Fla., says his Charmglow grill was the source of a food-related holiday mishap.
"On Thanksgiving, while using the grill the holes that lead into controls caught fire and melted," Victor said. "It was my third time using it since I purchased it from Home Depot. I was told to report the incident to the manufacturer."
If this sounds familiar, it should. In 2005 Brinkmann Corporation recalled about 130,000 Brinkmann-brand and Charmglow-brand gas grills because they posed a fire hazard. Since then, he have continued to get complaints. Victor should report his problem to the company and to the Consumer Product Safety Commission.
---