---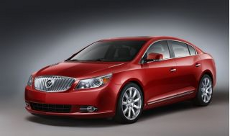 Dariusz, of Buffalo, N.Y., bought a 2011 Buick LaCrosse V6 with 18-inch wheels and writes to say that he is not impressed with the car or the road testing conducted at GM.
"The main culprit is the terrible road noise coming from wheels," Dariusz told ConsumerAffairs.com. "On any surface that is slightly rougher than completely smooth asphalt, the noise is very excessive. We compared the road noise with a 2002 very used Nissan Altima and found noise in the LaCrosse to be much worse."
He cites a second complaint, with the exhaust.
"The two mufflers sound like a boom box at very low rpm's," he said. "We plugged one up to test where the noise comes from and found the car 50% quieter. Apparently the other muffler is just for the looks and does not serve the purpose that it was designed for; that is, muffling the noise."
We checked to see what automotive site Edmunds.com had to say about the 2011 LaCrosse and there was no mention of the problems Dariusz cited. In fact, they praised the "smooth, quiet ride" in the V6. If he hasn't already, Dariusz should see what his dealer has to say about it.
Go straight to the source
Here's another reminder why, if your travel plans are subject to change, you should not use a third-party site to book your rental car, hotel or airline.
"I had never utilized Priceline previously," said Paul, of San Diego, Calif. "I reserved a rental car for one week trip to Ohio last September. "About an hour later, I was informed that we needed to revise our travel plans and would not be able to make the trip on the scheduled date. I immediately sent two email requests to Priceline regarding our change of plans and to cancel the car rental reservation. I received two email responses that company policy was to not grant refunds or credit for future rentals. I contacted Capital One, my credit card company, regarding stopping payment, but they were of little assistance."
Capital One could not act because it was a legitimate charge - Priceline was following its stated policies. Keep in mind, nearly all of these travel sites were launched in the early days of the Internet before travel-related businesses had their own websites. Today they all have websites where you can book travel directly, and often find very good deals.
Mad Men
Victoria's Secret advertising has always been a bit provocative. After all, consider the product. But Brittany, of San Diego, Calif., who describes herself has a 20-year old Victoria's Secret customer, says the current TV ad campaign goes too far.
"I am watching ABC holiday shows while nearly nude women caress themselves asking men to 'kiss me, love me, want me..."here is no other woman like me.'" Brittany said. What is Victoria's Secret trying to sell here? Model women" They flat out are brainwashing men with sex propaganda. It is disgusting and offensive! I thought I was the only one that felt that way so I polled my friends on my Facebook. Out of 200 female friends, 65 percent of them, who are in the range from 17-35, agreed that the commercials were offensive and inappropriate."
Brittany said she thinks the Federal Communications Commission should hear about it. Probably a better course of action would be for Brittany and her friends to let Victoria's Secret know how they feel.
---