---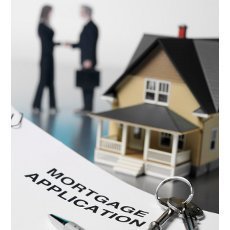 Mortgage delinquencies - homeowners falling behind on their payments by 60 or more days - can be a gauge of future foreclosures. So any prediction of a decline in delinquencies should be viewed as hopeful news or housing.
TransUnion, one of the big three credit reporting companies, says mortgage delinquencies should fall by one percent between now and the end of 2012. However, the company says they might increase slightly early in the year before beginning their decline.
Currently, about six percent of mortgages are considered delinquent. TransUnion says that number should fall to five percent a year from now.
"Although house prices and unemployment will likely face continued pressure next year, this forecast calls for gradual improvements in the second half of 2012 to other key variables, like improving credit quality of new originations, consumer confidence and GDP, that will positively influence homeowners' ability and willingness to pay their mortgages," said Tim Martin, group vice president of U.S. housing in TransUnion's financial services business unit.
"If things go as expected, there are no additional negative shocks to the U.S. economy and the average borrower's situation, mortgage delinquencies could fall as much as 16% in 2012 compared to 2011."
Credit Cards
While mortgage delinquencies have been declining steadily, so have late credit card payments. Credit card delinquency rates - the ratio of bankcard borrowers 90 days or more delinquent on one or more of their credit cards - reached their lowest levels in 17 years during the second quarter of 2011 and TransUnion expects them to remain relatively low in 2012. Currently, only 0.74 percent of borrowers are considered delinquent. TransUnion says that rate could fall to 0.69 percent in the fourth quarter of 2012.
"Credit card delinquencies are expected to remain fairly steady in 2012 ranging between 0.69% and 0.76% -- levels far below those typically observed in the last 15 years," said Steve Chaouki, group vice president in TransUnion's financial services business unit. "In today's uncertain economy, consumers have found that credit cards are among their most valued assets due to the flexibility they provide. As a result, consumers have made a concerted effort to make on-time payments and maintain relatively low balances."
In that regard, Chaouki said consumers have reduced the amount of money they carry as a balance on their cards. Credit card debt per borrower in the third quarter of 2011 stood at $4,762, approximately $1,000 less than the second quarter of 2009, the quarter in which the recession ended.
Thirty-nine states and the District of Columbia are projected to see credit card delinquency declines in 2012 with only 11 experiencing increases.
---