---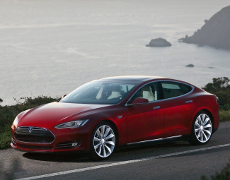 Tesla Motors says its Model S electric sedan will be ready to roll in mid-2012, with a price tag of $92,400 for the top-of-the-line version.
With most cars, paying more gets you more leather, bigger wheels, fancier sound systems and so forth. With Tesla, the extra bucks mostly get you a bigger battery, which translates to greater range.
The top-of-the-line extended-range version will have enough lithium-ion battery capacity to travel as far as 300 miles on a single charge, Tesla said.
The base version with a 40-kilowatt-hour battery pack will be able to travel as far as 160 miles per charge and will cost $57,400 without accessories. A mid-grade version that can go 230 miles per charge will have a base price of $67,400.
All versions qualify for a $7,500 federal tax credit.
Yes, it's expensive and you won't be able to jump in the car and drive from Los Angeles to Seattle but if you can settle for blasting up to Santa Barbara, it should be a quick trip. The Model S reportedly will accelerate from 0 to 60 in 4.5 seconds, which is two-tenths of a second quicker than the 2011 Porsche 911 Carrera with a manual transmission.
Tesla Model S Sneak Peek: Alpha Drives from Tesla Motors on Vimeo.
Palo Alto, Calif.-based Tesla, is hoping to become the first profitable electric-car manufacturer. Besides the S, it makes a small, two-seat roadster that gets up to 245 miles per charge.
---