---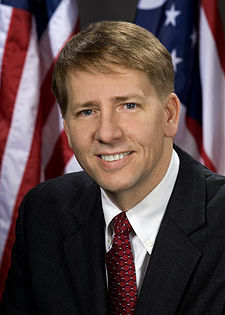 Richard Cordray
The long struggle to establish the Consumer Financial Protection Bureau isn't over. Filibustering Republicans in the Senate yesterday blocked confirmation of former Ohio Attorney General Richard Cordray to head the bureau.
Ohio Democratic Sen. Sherrod Brown said the vote showed that Republicans' "first loyalty is to Wall Street banks."
President Obama said the fight's not over.
"We are not giving up on this. We're going to keep on going at it," President Obama vowed. "We are not going to allow politics as usual on Capitol Hill to stand in the way of American consumers being protected by unscrupulous financial operators."
Obama had tried to skirt GOP opposition by nominating Cordray instead of Harvard professor Elizabeth Warren, the chief architect of the new agency. Critics had complained she spoke too forcefully on behalf of consumers.
Consumer advocates are urging Obama to appoint Cordray during the next Congressional recess, although Republicans have said they will keep the Senate in rump session to block such a tactic.
"Now it is time for President Barack Obama to end the needlessly drawn out process of installing a leader for the CFPB by making Cordray head of the agency through a recess appointment," said Public Citizen president Robert Weissman.
Weissman said that by blocking Cordray's nominations Senate Republicans "sent a clear message: They stand with Wall Street donors rather than American consumers."
Obama said the Senate's action "makes absolutely no sense."
"Consumers across the country understand that part of the reason we got into the financial mess that we did was because regulators were not doing their jobs," he said. "People were not paying attention to what was happening in the housing market; people weren't paying attention to who was being taken advantage of. There were folks who were making a lot of money taking advantage of American consumers."
The Senate's Republican leader, Sen. Mitch McConnell (R-Ky.), said his party had made clear for months that it would not confirm Cordray or anyone else until the law establishing the new watchdog agency is amended to allow for more Congressional oversight.
"We won't support a nominee for this bureau — regardless of who the president is" until those changes are made, McConnell said.
"Extremely disappointing"
"Today's vote is extremely disappointing," said Marge Baker of People For the American Way. "Senate Republicans are blocking a perfectly qualified and moderate nominee simply because they don't want the Consumer Financial Protection Bureau to do its job. This is cynical, crony politics at its worst."
"The CFPB was created to ensure that American consumers have a strong advocate in the financial sector, which has too often viewed the life savings of millions as the means to huge profits for a few. Republicans, however, would rather protect their friends at big banks than the consumers whose money those big banks rely on," Baker said.
"The list of financial tricks and traps that consumers are forced to deal with keeps growing," said Travis Plunkett, legislative director for the Consumer Federation of America. "Fourteen months after Congress created the CFPB, the agency needs a permanent leader so it is not fighting financial abuses with one arm tied behind its back."
---