---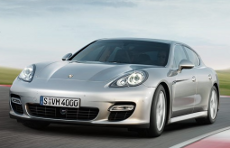 Think of Porsche and, chances are, you think of the 911, perhaps the most iconic sports car ever. But as something of a purist's car, the 911 has always had a limited base.
Porsche has been steadily changing that, introducing the hulking Cayenne SUV a few years ago and, more recently, the Panamera, its first four-door sports sedan.
Both have quickly become big sellers and Porsche is hoping to double its overall sales by adding a diesel Cayenne and a Panamera GTS while giving the 911 a facelift that will make it a bit more luxurious and a bit less like being inside a spinning clothes dryer.
The Cayenne turbodiesel will be Porsche's first diesel offering in the U.S. and although it may take Americans a little while to get used to the idea, turbodiesels are very popular in Europe and often outperform their gas counterparts while delivering markedly better fuel economy.
Hot cars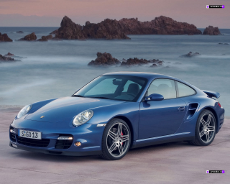 The Cayenne is now offered as a 380-hp hybrid with a top speed of 150. Oddly, the hybrid version delivers a fairly lame 24 mpg, only slightly better than the 22 mpg of the three gas versions.
The Panamera GTS will be the most powerful non-turbo Panamera, developing 430 horsepower and boasting a top track speed of 178 mph. If that's not fast enough for you, there's still the Turbo S -- 550 horsepower, top speed 190.
The redesigned 911 is a little lower and a little wider than the current model and, in its base versions, more closely resembles a luxurious touring roadster than the scowling, heavy-breathing road warriors of yore.
There are, of course, still Porsches for those of solid spine and well-padded rump who place performance above all else -- or, as Porsche puts it in describing the Cayman R, it "reflects the radical rejection of the pursuit of comfort."
Big bucks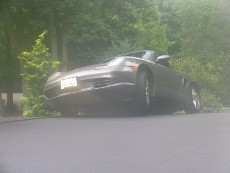 The author demonstrates his ability to drive fast in reverse
While they may soon cover a broader range and be a little more accommodating to creature comforts, Porsches still won't be cheap. The mid-engine Cayenne and the Boxster roadster both start at $48,000 and accelerate quickly from there. The 911 and Panamera hover around the $100,000 mark.
If you really want to pin the needle, the Panamera Turbo S and the 911 Turbo S Cabriolet will quickly spin up within sight of $200,000, not counting taxes, transportation and a steady supply of tires and brake jobs.
Nevertheless, Porsche thinks it can double its annual U.S. sales within seven years. It sold 25,000 cars in the U.S. last year, expects to come close to 30,000 this year and thinks its new models will take it to 50,000 by 2018, according to Automotive News Europe.
This might sound unrealistic given the sorry state of the U.S. economy. But 50,000 isn't a very big bite out of total U.S. car sales of somewhere around 10 million.
Just look around the parking lot the next time you're at your dermatologist's office or paying a visit to your dentist and chances are you'll see a Porsche or two. Or you could just hang out on Wall Street or K Street, where you can watch the hedge fund managers and lobbyists roar past the Occupy crowd.
---