---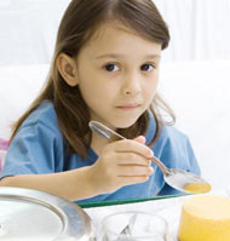 Children's hospitals are health care facilities that cater to children's special needs, but a UCLA pediatric specialist says they fall short when it comes to serving healthy meals to their patients.
Dr. Lenard Lesser, primary investigator and a physician in the Robert Wood Johnson Foundation Clinical Scholars Program in the Department of Family Medicine, David Geffen School of Medicine at UCLA, led the team that studied menus at California's children's hospitals.
The researchers found that only seven percent of entrees could be classified as healthy.
"As health professionals, we understand the connection between healthy eating and good health, and our hospitals should be role models in this regard," Lesser said. "Unfortunately, the food in many hospitals is no better – and in some cases worse – than what you would find in a fast food restaurant."
Hard to find whole wheat bread
For example, 81 percent of the hospitals offered high-calorie, high-sugar items such as cookies and ice cream near the cash register. Only 25 percent sold whole wheat bread. Forty-four percent did not provide low-calorie salad dressings.
On the plus side, the researchers found that all offered low-fat or skim milk and diet soda.
Overall the average score for the 14 hospital food venues was 19.1, out of a range of 0 (least healthy) to 37 (most healthy). While nearly all the hospitals offered healthy alternatives such as fruit, less than one third had nutrition information at the point of sale or signs to promote healthy eating.
Already seeing improvement
The researchers, who published their findings in the journal Academic Pediatrics, say they are providing the results to hospital administrators to encourage improvement. Since the study was conducted in July 2010, they say some of the hospitals surveyed have taken steps to either improve their fare and/or reduce unhealthy offerings. For example, some have eliminated fried food, lowered the price of salads, and increased the price of sugary beverages or eliminated them altogether from their cafeterias.
"The steps some hospitals are already taking to improve nutrition and reduce junk food are encouraging," Lesser said. "We plan to make this nutritional quality measurement tool available to hospitals around the country to help them assess and improve their food offerings."
---