---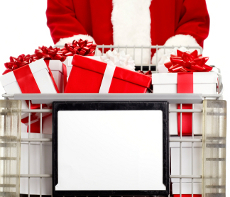 Either consumers are spending more money this holiday season or more of that spending has shifted to online sales. Data from research firm comScore over the weekend showed U.S. online sales this holiday shopping season are up 15 percent compared to last year.
Not only that, the company says this past week may have been the busiest week of the season in terms of online sales. The data shows shoppers spent over $1 billion on four days last week. Total sales for the week climbed 15 percent to $6.31 billion compared to last year.
The five days that ended on Friday "will almost certainly be the heaviest week of the online holiday shopping season," said comScore chairman Gian Fulgoni. Online spending will begin to slow as Christmas draws closer, he said.
Shoppers have spent $30.9 billion online from Nov. 1 through Dec. 16, up from $26.9 billion at the same point last year.
Despite last week's massive spending, "Cyber Monday," the Monday after Thanksgiving, is still the largest online shopping day ever, according to comScore. Sales for that day rose 22 percent from last year to $1.25 billion. Cyber Monday sales topped $1 billion for the first time last year.
Consumers taking advantage of promotions
What's behind the big jump in online spending? Part of it may have been the product of declining gasoline prices during the autumn months. Consumers feel that they have more money to spend.
Online merchants have also been more aggressive with their marketing, including promotions like "free shipping day."
"Free shipping is undoubtedly one of the most important incentives for consumers and has become a key driver of online buying activity over the past few years," Fulgoni said. "This season has seen a continuation of the trend where an increasing percentage of transactions involve free shipping, as more consumers demand it and more retailers provide it. During the week of Thanksgiving and Cyber Week we saw at least 3 in 5 transactions use free shipping, significantly higher rates than we've ever previously observed."
---