---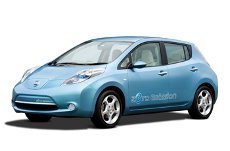 After a bumpy first year, Nissan is making its all-electric plug-in Leaf available in seven more states, with the goal of being in all 50 states by March 2012.
Dealers are now taking orders for the 2012 Leaf in Delaware, Indiana, Louisiana, Nevada, Ohio, Pennsylvania, and Rhode Island, for a total of 30 states so far.
"Nissan Leafs have been on the U.S. roads for one year now, and thousands of drivers have become living proof that a 100% electric, zero-emissions vehicle fulfills the daily needs of drivers from all walks of life," said Brian Carolin, NNA senior vp-sales & marketing.
"We are seeing already-strong interest in the LEAF continue to grow across the country," he added. "This market expansion brings us one step closer to true, nationwide availability."
Carolin said the 2012 Leaf features additional standard equipment, including quick charging and cold-weather features.
But electrifying company announcements aside, the Leaf hasn't exactly set the world on fire, and recent reports of battery fires in the competing Chevrolet Volt haven't done much to help sales.
Falling leaves
Things looked great a year or so ago, when our Truman Lewis reported breathlessly: "The Nissan Leaf is sold out for now, even though not a single car has yet been delivered to a U.S. customer."
And yes, it was true that Nissan had collected 20,000 reservations from would-be Leaf owners. But that didn't translate into 20,000 sales, with only 8,720 of the cars being sold by the end of November.
Production delays played a role but after an initial spark of excitement, consumers seemed to lose interest in all-electric cars, many picking up a bad case of "range anxiety," the fear that the Leaf wouldn't get them where they wanted to go.
An uncertain economy didn't help either. The electric cars, like their hybrid cousins, cost thousands more than a comparable gas-powered car. With more efficient gas and diesel models now available, many consumers have chosen to stay with technology they know, at least for now.
---