---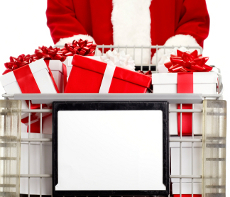 Now that Christmas is over and the presents have all been unwrapped, the stores will be crowded once again with people using their gift cards and standing in line to exchange gifts for a different size or color, or for something else entirely.
While holiday shopping can be stressful, so can holiday returns. It's best to begin the process with all your ducks in a row.
Mixed bag
Return policies can vary from store to store, so get familiar with them before getting in the return line. If it's a chain store, you'll likely find the policies on the corporate website.
Some businesses allow gift exchanges, returns or refunds at any time; others impose a deadline by which a return must be made, whether a receipt must be shown, and if only store credit is issued. Some stores won't accept returns if the product has been opened or limit how many returns a single consumer can make. Still other merchants do not accept any returns, even with a receipt.
"No one wants to spend the holidays haggling with retailers over a gift refund, a defective product or a confusing warranty plan," said Maryland Attorney General Douglas Gansler. "Being an informed consumer will lessen the chances of a frustrating shopping experience and, more importantly, allow you to spend more time with loved ones."
State laws vary widely. In Gansler's Maryland, if the retailer doesn't have a posted policy and it is not printed on the receipt, the consumer may assume there are no refund limitations and must receive a merchandise exchange or a refund, as long as the item is in good condition. Also, if a purchased item is defective, the store is required to repair it, exchange it or give a refund, regardless of its return policy.
You can find out about laws covering returns in your state by checking your state attorney general's website.
Gift cards
If you're using a gift card, it's also good to know the store's policy. For example, it's good to know whether remaining value after a purchase can be received in cash and whether gift cards can be used online, as well as in-store.
Excessive fees and short expiration periods aren't the problems they once were. Federal legislation adopted in 2009 extends expiration protection to five years, although consumers may be subject to fees during the fifth year.
Gift cards issued by banks and processed through a national credit or debit card service, such as American Express, MasterCard or Visa, offer more flexibility - most stores accept them - but may have different protections. If the card is not reloadable, federal legislation prevents expiration in less than five years, but fees may still apply once a month if there has been at least one year of inactivity.
Any terms or conditions regarding an expiration date or fee (service charge, inactivity fees or reload fees are among the most common) must be visibly printed on the card itself, on a sticker permanently affixed to the card or on an envelope containing the gift card.
Fees
Fees cannot be charged more than once a month and require that there is at least one year of inactivity on the card prior to being initially assessed. These terms may not be changed after the date of purchase unless it benefits the consumer.
Finally, in Maryland and many other states, defective merchandise is covered by an implied warranty - a guarantee that the item works when it is purchased -- even if a store has a "No Refunds, No Exchanges" policy. Implied warranties require that new and used goods are fit for sale and continue to function for a reasonable period of time. If you buy a defective product, you have the right to have it repaired or replaced, or to get a refund.
A product may not be sold "as is" under Maryland's implied warranty law, except used cars that have more than 60,000 miles and are more than six years old. Dealers selling a car "as is" must include a written disclosure stating that the implied warranty does not cover automobiles.
---