---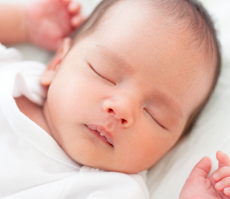 Isabella and Jayden held fast as the most popular baby names in New York City for the second year in a row, according to the city Health Department's latest tally of birth certificates.
There nearly 600 Isabellas born in the Big Apple in 2010 (yes, the statistics are a year behind) and more than 800 Jaydens.
Nine of the top 10 girls' names for 2010 were holdovers from 2009, with Ashley falling to number 13 and Chloe joining the list, up from 11 to number 10.
Among boys, Jacob and Joseph made it into the top 10 after getting bumped off two years ago. Jacob came back strong, listing in the 4th place slot as most popular in 2010 while Michael's rank fell further to 7th place from 4th place in 2009. Michael had been the top boy's name during the 1980's through early 2000's.
From 2009 to 2010, the number of babies born in New York City dipped slightly, down 1.6% from 126,774 to 124,791 (64,076 boys and 60,715 girls). Brooklyn saw the greatest number of babies born last year with 41,469 births. Queens came is second with 26,955 births followed by 21,258 babies born in the Bronx, 19,646 in Manhattan and 5,580 on Staten Island.
There are almost as many babies born on Staten Island (5,580) as there are babies born to New York State residents who live outside of New York City (5,719).
Star Power
MOST POPULAR BABY NAMES
NEW YORK CITY, 2010
Rank
Girls
Boys
1
Isabella
Jayden
2
Sophia
Ethan
3
Olivia
Daniel
4
Emily
Jacob
5
Madison
David
6
Mia
Justin
7
Emma
Michael
8
Leah
Matthew
9
Sarah
Joseph
10
Chloe
Joshua
NYC Total Births
60,715
64,076
New Yorkers continue to be inspired by movie, music, sports and fashion icons as they search for the perfect name. Last year's big draws included common actress names such as Sofia (#16) and Angelina (#28), popular singer names like Usher (#155) and Mariah (#99), and athlete names namely Eli (#49) and Carmelo (#168). Suri (#136) and Jayden (#1) – names chosen by celebrity parents Katie Holmes and Will Smith – were also popular.
Biblical Names
Religious figures were an even bigger source of inspiration. Holy names for girls included Leah (#8), Sarah (#9), Esther (#15) Rachel (#18) and Chana and Miriam (tied for #34), while Daniel (#3), Jacob (#4), David (#5), Matthew (#8), Joseph (#9), Joshua (#10), Noah (#20) and Elijah (#21) were often bestowed upon boys.
Geographic Names
Big cities and states were also popular baby names. Charlotte (#33) and Brooklyn (#138) were on the 2010 list. Austin (#109), Georgia (#136), Phoenix (#146), and Virginia (#151) also made the cut. Some parents selected international monikers like Paris (#125) and London (#164).
---