---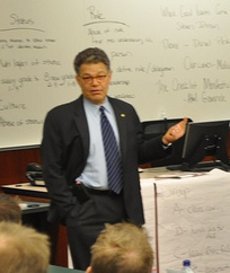 Sen. Franken
Sen. Al Franken (D-Minn.) is calling for an investigation into spyware on cell phones. He's responding to recent reports that mobile software company Carrier IQ is working with phone manufacturers and cellphone carriers to install spying software on Androids and iPhones.
"Consumers need to know that their safety and privacy are being protected by the companies they trust with their sensitive information," Franken said. "The revelation that the locations and other sensitive data of millions of Americans are being secretly recorded and possibly transmitted is deeply troubling."
Independent researcher Trevor Eckhart recently said he has documented that Carrier IQ's software has the ability to record actions that you take on your phone — numbers that you dial, letters that you press when texting or searching the Web, menu buttons that you push — and send it all back to the company's headquarters.
The software may also be present on models made by BlackBerry, Nokia and other manufacturers.
Carrier IQ bills itself as "the leading provider of Mobile Service Intelligence Solutions" and says it provides carriers and manufacturers "unprecedented insight into their customers' mobile experience."
On its Web site, the company says that by using itself system, carriers can not only measure large-scale trends but can "drill down to specific instances, giving you the insight your specialists need to make a difference." It claims to have its system enabled on more than 141 million phones.
AT&T, Sprint, HTC, and Samsung have all confirmed that that their mobile phones integrate the Carrier IQ software.
Both AT&T and Sprint insisted that the software is being used solely to improve wireless network performance while phone makers HTC and Samsung said they were integrating the software into their handsets only because their carrier customers were asking for it.
T-Mobile said it uses Carrier IQ's software but described it as a diagnostic tool to troubleshoot device and network performance. Apple said that while it has used Carrier IQ's network diagnostic software in the past, it recently stopped supporting it and plans to remove it from its mobile devices in a future software update.

Google said it had no ffiliation with Carrier IQ and said that its Android operating system "is an open source effort and we do not control how carriers or OEMs customize their devices."
Lot of questions
"This news underscores the need for Congress to act swiftly to protect the location information and private, sensitive information of consumers. But right now, Carrier IQ has a lot of questions to answer," Franken said.
In a letter to Carrier IQ President and CEO Larry Lenhart, Franken asked Lenhart to explain exactly what information the software records, whether that information is transmitted to Carrier IQ or to other companies, and whether that information is shared with any third party, among other things. He also asked if Carrier IQ would allow users to stop this tracking.

Earlier this year, Franken introduced the Location Privacy Protection Act, which would require companies like Connect IQ to obtain the explicit permission of customers before tracking their location information or sharing that information with third parties. The legislation has already garnered significant support in the Senate and from prominent privacy and consumer protection advocates.
Outrageous
Free Press Internet Campaign Director Josh Levy called it "outrageous that an American company is monitoring the use of our phones with spying technologies that you'd expect to see in China, not the U.S."
"Activists from Cairo to New York to Los Angeles are using their phones to broadcast images of cops wielding pepper spray, handcuffed journalists and squares full of protesters," Levy said. "Actions that breach the integrity of our mobile devices violate our freedom to communicate. We must ensure that the most important movements of our time aren't compromised by gatekeepers with little regard for our free speech or privacy.
"Congress and the Department of Justice must investigate these shady practices. We have a right to know what Carrier IQ is doing with our information, and we have a right to use our mobile phones without fear of data spies."
---