---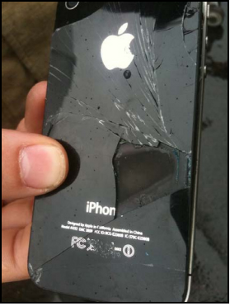 Passengers aboard an Regional Express (Rex) flight in Australia were alarmed this week when black smoke began filling the cabin.
The airline said a quick check found that the smoke was coming from a passenger's iPhone 4, which was also glowing. In accordance with company standard safety procedures, the airline said the flight attendant on the Lismore to Sydney flight carried out recovery actions immediately and "the red glow was extinguished successfully."
Rex did not disclose whether the device was turned on at the time. The damaged iPhone has been turned over to Australia's Civil Aviation Safety Authority (CASA) for investigation.
The airline released a photograph of the iPhone, showing large cracks on the back case and dark, charred areas around the edges of the device.
The plane, a Saab 340 aircraft, had just landed and was not in the air when the iPhone began smoking. No one was injured but the cabin was described as being filled with "dense, black smoke."
It's the first reported incident of a smartphone overheating to the point of catching fire on an airline flight. However, notebook computers have been known to cause fires, destroying property on the ground.
In 2007 an Australian consumer reported his Macbook ignited in his home, causing extensive damage. In 2005 the U.S. Consumer Product Safety Commission issued a warning that cell phone batteries run the risk of exploding and catching fire.
---