---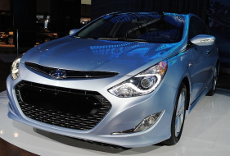 Hybrids are becoming more mainstream and less exotic each year, which translates in many cases to less expensive, at least as compared to gas-only models.
The 2012 Hyundai Sonata fits that bill. Its base price of $26,610 is just $55 above this year and, while there are no huge improvements in mileage or performance, next year's model has a broader array of creature comforts to choose from.
The car is comparable to, but cheaper than, mid-size hybrid competitors such as the Ford Fusion and Toyota Camry. The Sonata, by the way, can run on electric power alone, something that's not always true of hybrids. So if you run out of gas or have serious engine problems, you should be able to buzz over to a dealer.
Hyundai's reliability and service record has improved somewhat in recent years and, as with most brands, depends to a great extent on the dealer. Our advice, as always, is to check out the dealers in your area using sites like ours, the BBB and local references.
So should you be considering a Hyundai? The brand's hovering in the mid-60% approval range lately, according to a ConsumerAffairs.com analysis of about 740,000 consumer comments on Twitter, Facebook and other social media and blogs.

As for intensity, our survey found more consumers who had intensely positive feelings about Hyundai than those who were intensely unhappy, which isn't always the case with cars.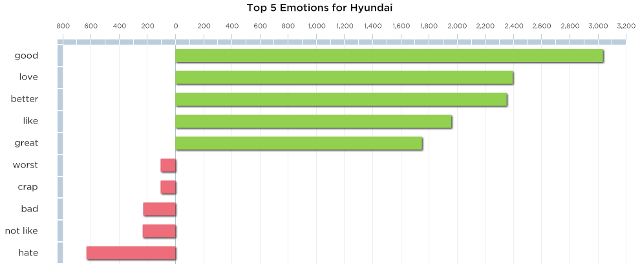 Under the hood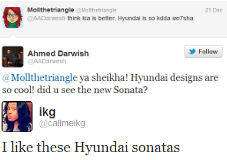 As for the new Sonata, not much is changed under the hood. The power plant remains Hyundai's 2.4-liter, four-cylinder Atkinson-cycle engine coupled to a six-speed automatic transmission. Power from the four-cylinder is rated at 166 hp, while the electric motor adds 40 hp for a total system output of 206 hp.
Purists would probably say that makes the Sonata a "mild" hybrid but whatever you call it, the Sonata hybrid maintains its mild appetite for fuel, once again turning in a 35-city, 40-highway mpg rating.
The specs don't specify premium fuel, so with regular in the tank and the 270-volt lithium polymer battery jammed in down below, the Sonata should be an economic daily driver.
The Blue Link telematics system will be a standard item for 2012. It will let you download a Blue Link app onto your smartphone and use it to remotely lock and unlock the car as well as perform other functions. And yes, it includes voice activation, so be careful what you say.
Options include the usual -- leather seats, dimming mirrors, bigger wheels and so forth, enabling you to get the price above the $30,000 mark without ever trying.
---