---
Honda had always hoped its Acura marque could emulate Toyota and Nissan, which successfully propelled the Lexus and Infiniti brands into the rarefied luxury-car tier alongside Mercedes-Benz, BMW and, arguably, Cadillac.
It never quite happened, and Honda now says it will try to reposition Acura as a mid-range, fuel-efficient brand, a plan it revealed during the recent Toyota Auto Show.
Could be, but Acura is blessed with a lofty reputation among consumers. A ConsumerAffairs.com analysis of more than 420,000 consumer comments on Twitter, Facebook and other social media and blogs finds consistently positive sentiment hovering around 70 percent.

Blue line indicates net sentiment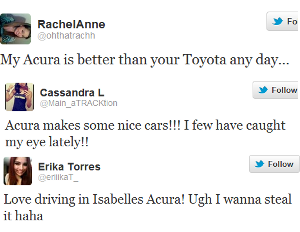 Over the next few years, Acura will introduce a new compact sedan, the ILX, built on Honda's global Civic platform, replacing the TSX, Automotive News reported. A redesigned RL flagship is expected by next fall, followed by a redesigned mid-sized TL sedan in the spring of 2013.
In the crossover category, a redesigned RDX compact will debut next spring with the next MDX arriving in 2013.
New NSX
But listen sports fans, not all the news is about fuel efficiency and miles per gallon. Honda says it will also be bringing back the NSX sports car.
The original NSX was built from 1990 to 2005 and attracted a fanatical, if small, base of loyalists. The rear-wheel-drive, Pininfarina-designed speedster was often called a Japanese Ferrari and with good reason.
Honda built the NSX from 1990 to 2005. It was a rare rear-wheel-drive effort by the automaker, and it sought design help from Italian car designer Pininfarina. It was often thought of as a Japanese Ferrari, and it was just as fast. The car sold for about $90,000. There's no word on what the price of the new NSX might be.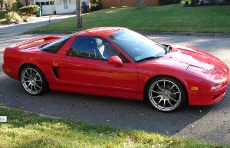 1995 Acura NSX (eBay Motors photo)
The original NSX was a monster, with a hugely powerful racing engine, but the new model will make greater use of technology to achieve at least comparable results.
Acura sales chief Jeff Conrad said the approach will emphasize "efficiency and a strong power-to-weight ratio," Automotive News said. "If we are thinking about being sporty, we need to do it with the machine's efficiency. That's the thing we can do. The way we achieve it will be unique to Acura."
---
Sentiment analysis powered by NetBase
---