---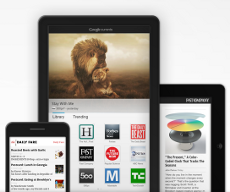 So here's the latest entrant in the war for your smartphone and tablet: Google Currents.
It's a new ad-supported app for Android and Apple devices that displays magazines in a colorful, easy-on-the-eye format or, as Google put it, "swipable magazine format."
Most major publishers are represented, with titles including Forbes, Fast Company, The Daily Beast, Huffington Post and ABC News, among many others.
For anyone who has tried to read a text-only magazine on their smartphone, this should be a great leap forward. Plain old text is OK for a few things but is a pretty dull way to read a magazine.
Colorful ads
Thanks in large part to the graphic display, there's room for colorful ads and therefore, subscriptions are free, since the project will be supported by advertising, with Google and the publishers splitting the proceeds.
Publishers, you'll recall, salivated when the iPad was introduced, thinking that at last they would once again be able to gouge both subscribers and advertisers. Nice idea. Too bad it didn't work.
Current's competitors include Apple's Newsstand, Yahoo's Livestand and a number of smaller players, including Flipboard.
We decided to take a look at it on our Samsung 'Droid. Even with a strong Verizon 4G LTE connection, it took seemingly forever, about 20 minutes, to load the app and get it running. Once that was done, we paged through Fast Company, reading about -- what else? -- Currents.
The presentation is indeed easy on the eyes and the entire experience is much more like reading a magazine than staring beady-eyed at endless rows of unformatted text. Pages load relatively quickly, although there are those pregnant pauses we have all come to anticipate. Maybe someone should write an app to fill the idle seconds while pages and videos download? SuperQuickChess anyone?
---