---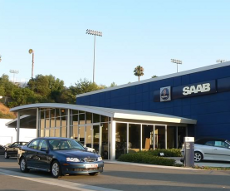 General Motors says it will extend warranty coverage to owners of thousands of Saab vehicles sold before February 2010, while Saab says it may be able to cover some cars.
Saab filed for bankruptcy and liquidation earlier this week after GM, its former owner, torpedoed a deal with a Chinese company that would have kept the struggling automaker alive.
Although GM retains ownership of only a small part of Saab, it said it could not allowed technology that it licenses to be used to compete with GM products in China, an important and fast-growing market for all automakers.
Saab jettisoned Saab, Saturn, Pontiac and Hummer back in 2009 as part of its bankruptcy proceedings. It sold Saab to an independent firm in 2010 but the new owners weren't able to raise enough money to keep the company going.
Out-of-court
Saab Cars North America (SCAN) said today it has elected to pursue an out-of-court resolution rather than going through a formal bankruptcy process. It said its directors believe the procedure will "maximize the enterprise value for its customers, dealers and creditors."
A GM spokesman, meanwhile, said GM is working to notify Saab customers that it will step in.
"In the event Saab cannot or will not fulfill its obligations to administer the warranty programs with its U.S. and Canadian dealers through Saab Cars North America or otherwise, GM will take necessary steps to ensure that remaining warranty obligations on Saab vehicles marketed by GM in the United States and Canada will be honored," Jim Cain told the Detroit News.
SCNA said it is committed to developing a solution that would provide warranty coverage for Saab vehicles covering model year 2010 and 2011 models, while GM covers warranties for model year 2009 and prior years.
"The SCNA Board's decision to explore all possibilities out-of-court is the most appropriate direction to take for customers, dealers and creditors," said Tim Colbeck, President and COO, Saab Cars North America. "By having an experienced, outside Administrator oversee the process, the interests of all parties are better served."
SCNA is aggressively investigating all options aimed at reinstating its parts business in North America in a timely manner, SCNA said. Saab Parts Company in Sweden remains operational and not impacted by the recent announcement regarding Saab Automobile AB.
Good time to buy?
There are only a few thousand Saabs still unsold in North America and the company says it has stopped all dealer incentive payments to its 188 U.S. dealers. But even without incentives and cut-rate financing, buying a Saab might make sense in some cases.
There would be only two reasons to buy a Saab today: to own a collector's item and to get a pretty decent car at a very low price.
Make no mistake: a Saab today is worth a lot less than it was a few days ago. This is bad news for current Saab owners but if you're in the market for a safe, sporty, well-designed European car you should be able to pick up a Saab at a huge discount.
Just keep in mind it will be worth next to nothing in the future and, if you keep it long enough, you will eventually begin to encounter trouble getting parts at a reasonable price and finding mechanics interested in working on the thing.
Collectors and enthusiasts are another matter, of course. If you think it's worth $30,000 or so to buy something that will be considered an oddity someday, and if you have room to store it, now is the time to strike. After all, like land, they're not making Saabs anymore. At the worst, it will be an expensive conversation piece that your spouse uses as a club whenever he or she is perturbed with you.
Take it from one who has owned any number of extinct cars, including Peugeots, Alfa Romeos and Fiats, they're priceless classics to you -- but they're just old cars to just about everyone else.
---