---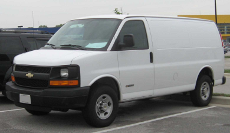 Federal safety regulators say older Ford and General Motors vans are getting rusty. That's not surprising, but the National Highway Traffic Safety Administration (NHTSA) says the rust and corrosion is so severe in some models that it may pose a safety risk.
The investigation involves 63,000 2004 Ford Freestar and Mercury Monterey minivans over severe corrosion in rear wheel wells and rust-related fuel leaks in 17,165 2003 Chevrolet Express vans.
In the case of the Express vans, NHTSA said fuel filter pipe could corrode and leak fuel. It has already received five complaints from the "salt-belt" states (locations that use road salt during winter months) for rust issues.
NHTSA said it has also received seven complaints regarding the 2004 Ford Freestar and Mercury Monterey minivans from salt-belt states. Consumers said the rear wheel wells had become severely corroded, noting that the anchor mount for the third-row seats had become completely detached from the minivans.
---