---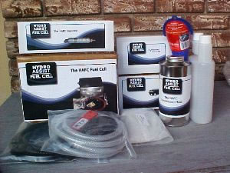 Turn any vehicle into a hybrid? Don't think so. And neither does the Federal Trade Commission (FTC), which has put a stop to the phony claims of marketers who sold a device that they claimed could boost gas mileage by 50 percent.
The "Hydro-Assist Fuel Cell" could turn water into "water gas" with five times the potential energy of gasoline, according to the claims made by UCSA Dealers Group LLC.
In a complaint filed in 2009, the FTC charged that Dennis Lee, Dutchman Enterprises LLC, and United Community Services of America Inc., doing business as UCSA Dealers Group LLC, made false claims for their Hydro-Assist Fuel Cell. The court subsequently halted the allegedly illegal practices and froze some of the defendants' assets pending further litigation.
A settlement order reached this week bans the defendants from selling energy generation or conservation products, and allows them to sell or transfer fuel cell kits or parts only if they don't misrepresent energy or fuel efficiency capability and don't permit others who buy them to do so.
They can sell the kit's liquid fuel additive component only if they disclose, upfront, that it contains petroleum distillates, and only if they provide buyers with a copy of the Material Safety Data Sheet for the additive dated February 3, 2008.
If the defendants sell or transfer any kits or parts, they must tell the FTC each buyer's name and address and describe any prior business relationship they may have had with the buyer.
The order also prohibits the defendants from misrepresenting any good or service, and from selling or otherwise benefitting from customers' personal information, and requires them to properly dispose of customers' personal information within 30 days.
In addition, the order imposes a judgment of more than $2.7 million against the defendants, all but $230,356 of which will be suspended when they have surrendered frozen assets. The full judgment will become due immediately if the defendants are found to have misrepresented their financial condition.
---