---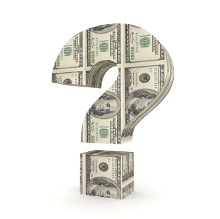 Are you better off than you were three years ago? Unless you won the lottery, chances are the answer is no.
The Federal Reserve reports that the total net worth of American households and nonprofit groups fell by $2.4 trillion in the third quarter of this year, a decline of 4.1 percent compared with the second quarter.
Why? Two primary reasons: the stock market did poorly and real estate values continued to fall.
Although nearly everyone inveighs against Wall Street, it's still true that when stocks and bonds have a bad quarter, it affects nearly everyone. The value of mutual fund shares and pension funds generally move up and down with the stock market. With almost no interest being paid on savings and an anemic stock market, it's a difficult time for retirees and those who manage their funds.
Meanwhile, real estate is still trying to find the bottom, as foreclosed homes sit vacant as would-be buyers try to find a mortgage. Household real estate assets fell by $98.3 billion (0.6 percent) from the previous quarter.
Then there's credit or, to be more precise, debt. Some economists will tell you Americans cut their debt in the last quarter. Others will say they did so unwillingly, as they failed to qualify for a new or refinanced mortgage.
Credit card debt, on the other hand, spiked during the last quarter, as consumers piled on $16.8 billion in credit card debt, up 154 percent from the same quarter last year.
Food spending dips
Helping to put this in perspective, a new analysis of federal data (pdf) by the Food Research and Action Center (FRAC) finds that more and more Americans have been losing the struggle to afford an adequate and healthy diet.
Food spending by the average household fell dramatically over the past decade, with particularly dramatic drops in 2000-2002 and 2006-2010.

FRAC analyzed U.S. Department of Agriculture (USDA) annual reports that compare the amount of households' median spending on food to the amount of the Thrifty Food Plan – the level the government defines as needed for a bare bones diet on an emergency basis, albeit a level that many experts consider to be inadequate for most families to obtain a healthy diet. The FRAC analysis found that:

Spending on food by the median household fell from 1.36 times the Thrifty Food Plan level in 2000 to 1.19 times that level in 2010.

By 2010 median spending on food by Black households and Hispanic households had fallen to the point where it was only a tiny bit above (101 percent for Black households) or was actually below (96 percent for Hispanic households) the bare bones Thrifty level.

Spending by households with incomes less than 185 percent of the poverty level fell from 106 percent of the thrifty level in 2000 to 95 percent in 2010.
"In short, tens of millions of households are failing to attain an adequate standard for food purchasing," said FRAC President Jim Weill. "When families don't have enough resources to purchase an adequate diet, it leads to increased hunger and damages health, mental health, family cohesion, early child development, learning, and productivity at work. Today's inability to afford enough food will lead to widespread harm to the nation's children and adults, its schools and its workplaces, and its economy unless this trend is reversed."
---