---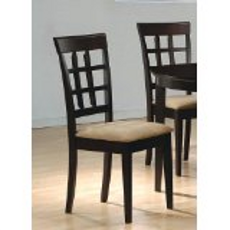 Since credit is harder to come by, layaway plans have come back into vogue. A consumer makes periodic payments on a piece of merchandise until it is fully paid for. It's a tried and true method, but Teresa, of Chesterfield, Va., thinks something isn't right with her layaway purchase of a dining table at Ashley Furniture.
"My contract stated that the total price was $599," Teresa told ConsumerAffairs.com. "I had to put the down payment of $126.51 on the date of purchase, I have since paid the same amount each month which totals $506.04. After making the November payment I asked what was my balance and was told $533. I asked how is this possible and the associate stated that a 'portion' goes to Ashley Furniture for their fees."
Teresa is correct to be suspicious. This doesn't add up. She should carefully read the terms and conditions of the layaway, which should have been given to her at the time of the sale. Depending on what she finds, she should take her sales contract/receipt to the store, along with cancelled checks from her payments, and ask the manager of the store to explain the math.
Layaway plans sound great but they always involve extra charges and there's a chance that the consumer will wind up paying for merchandise that, for one reason or another, they don't ever receive. It's much better to go to a discount store, or a used or factory outlet store and pay cash for something you can take home the same day.
Get it in writing
Many consumers are confused about how to cancel a subscription service. Some companies seem to make the process harder than others.
"I just discovered that I have been charged for Sirius Satellite Radio service I tried to cancel and thought I had done so successfully over a year ago," said Glenn, of Medina, Minn. "In speaking with Sirius personnel, three different individuals over the past 45 minutes they were unwilling to give me anything but a refund for the last quarterly charge. I had signed up for their five month promotion for $20.00 and then after using it for two or three days tried to cancel. They will acknowledge a phone call inquiring about my account status, but say they have no record of me cancelling."
When ordering something online, or cancelling an order or reservation, the business should give you a confirmation number. That is the way you can track and verify the transaction. If the business does not give you a confirmation number, you probably haven't successfully cancelled your contract.
Pests
Melissa, of Newell, Iowa, says telephone solicitors for Debt Relief Network repeatedly call her despite her request to be put on their Do Not Call list.
"I have blocked their number and they keep calling me with different numbers," Melissa told ConsumerAffairs.com. "They repeatedly hang up on me and they are very rude when I ask them to quit calling me. I ask for a website to look up their company information and they hang up on me. They call me everyday and I am sick of it."
Melissa should lodge a complaint with Iowa Attorney General Tom Miller's office about the unwanted calls. And if she isn't already, she should get on the Federal Trade Commission's national Do Not Call List. Here's how.
Happy ending
In recent years coffee makers, of a variety of makes and models, have been the source of consumer gripes. John, of Wilmette, Ill., had a problem with his Bunn BTX-B coffeemaker, but says the company stood behind its product.
"I called Bunn customer service and a very nice lady asked for the code date on the bottom and then told me that it was covered by warranty," John said. "They shipped me a new one no charge, asking only that I pay the shipping to send the broken one back, which I thought was reasonable. When a company takes responsibility like that, they earn my confidence."
Once upon a time, that was simply considered good business.
---