---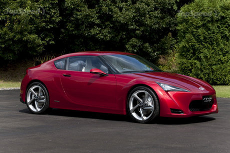 Look out, Mustang, that's a Toyota coming up behind you. No, not a Corolla or a Camry, it's a Scion FR-S, a totally new model that Toyota hopes will lend a little excitement to its rather battered image.
The Scion FR-S churns out 200 horsepower in a rear-wheel-drive platform. With a top speed of 142 mph, it can do 0-62 in six seconds, which is respectable but not quite awesome.
Toyota President Akio Toyoda unveiled the new model, which will be called the Toyota 86 in Japan, at a Tokyo race track Sunday before a gaggle of automotive press in town for the Tokyo Auto Show.
So far, the company hasn't disclosed a price or gas-mileage estimates, but executives say Toyota wants to price the car so that it's affordable to recent college graduates -- perhaps something around $26,000.
Automakers want to snag consumers when they're young in hopes of turning them into lifelong customers, something that's gotten harder to do as brands and automotive fashions come and go faster than a Ferrari working its way around the track.
Fun to drive
Toyota's chief engineer, Tetsuya Tada, says the goal was to build a car for car-lovers, one that's affordable and fun to drive, with good handling and a low center of gravity.
In a nod to the Beach Boys era when cars were something guys tinkered with the way they now fiddle with their silly iPhones, the new Scion does away with computer chips, turbochargers and other gimmickry that make it hard for hobbyists to take their cars apart and get them back together.
The suspension is also set up so it can be easily customized and tuned by car buffs.
If any of this sounds like something Subaru would do, you're right. It should be no surprise that the Scion/86 was developed jointly with Subaru, which will be rolling out its version -- the BRZ -- later this week.
Toyota contributed the styling and sheet metal. Subaru is building the four-cylinder horizontally-opposed boxer engine (yes, that's boxer as in Porsche Boxster, although the Porsche boxer engine is six cylinders and, depending on the model, develops closer to 300 horsepower).
---